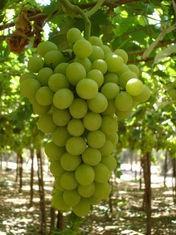 For over a decade, Egypt has been gearing itself to become a major supplier of high-quality fresh produce. The country's horticultural sector has undergone a radical change over recent years, which has been followed by the modernisation of infrastructure, expansion in land reclamation and a heavy investment in facilities.
The Egyptian government has also taken a proactive stance through economic reforms and privatisation aimed at boosting the country's fruit, vegetable and flower exports, with further expansion forecast in the form of an extended window of free trade with the EU.
Table grapes are grown in great volumes in Egypt. Last year's season reached 1.3 million tonnes, of which 40,000t was exported and this is expected to increase again this coming season. Demand for Egyptian grapes in the UK market is growing as rapidly as the quality of the produce, and with predictions for a better-than-ever crop this season, the buzz is set to continue.
The Superior, Thompson, Flame, Crimson, Sugraone and Red Globe are exported, and more and more Egyptian grape exporters are meeting EurepGAP requirements and delivering the high-quality grapes that are coming to be expected from the country. The Horticultural Export Improvement Association (HEIA), which was set up in 1996. It supports exporters, growers and processors in increasing exports of fresh and processed produce, assures Egypt's international quality and raises agriculture labour force standards for a sustainable economy. More than 10 years on, the general opinion is that HEIA has built a community for its members and creates opportunity for both the grower and exporter.
However, Abdel Raouf, the commercial counsellor for the Egyptian Commercial Service in Cairo, says there are still some issues to overcome if this success is to continue. "The issues facing the industry are many but surmountable. Investing more in packaging, sourcing new virgin land, particularly for organic crops, and the need for quality accreditations are among them." He explains: "Egypt covers a vast area of more than one million km sq, of which only six per cent is inhabited. The land is there but it needs the infrastructure to be built up. This takes more than money."
Exporter Trade Waves Co echoes this apprehension, with general manager Ahmed El-Hodaiby stating that tough competition in the region, shortage of freight space and equipment, insufficient facilities and the non-availability of skilled labour due to the fruit's short season are all major issues. Exporters of Sugraone, Flame Seedless and Crimson Seedless grapes, Trade Wave trades through its packaging brand, Fruit Waves, and supplies importers, supermarkets and wholesalers in the UK, as well as the Netherlands, Germany, Belgium, Italy and Russia. In an effort to turn this situation around itself, last year saw Trade Waves develop an air-conditioned grape packhouse. El-Hodaiby says: "The air-conditioned packhouse assists in creating the shelf-life of packed grapes and assures the delivery of grapes as fresh as harvested." The company has also introduced an automatic tracing system to be active by June 2007, which includes the supply of hardware, an online traceability software system and staff training.
Last season, Trade Waves exported more than 1,200t of grapes, with 30 per cent of that volume making it to the UK market. This year, the company has plans to double that figure. El-Hodaiby maintains that Egyptian grapes are known for their good quality, but says that Trade Waves goes that bit further to guarantee it. He says: "Trade Waves applies a strict quality assurance system, controlling all chemical applications and ensuring that fresh produce meets health and safety requirements."
This seems to be the way forward for Egyptian exporters; to make sure that its company has that something extra. Alan Guindi, joint managing director at importer Richard Hochfeld Ltd, which imports Superior, Flame, Early Sweet, Crimson and Thompson varieties into the UK, says of the business: "Most exporters can produce vast amounts of very good Superior and Flame in Egypt. It is an advanced and professional industry. The trick is finding the companies with an edge in added value, progressive variety differences, and forward thinking."
Egyptian exporters are aware that key issues such as quality, price and convenience are a big pull for the UK consumer. The UK is a huge market to utilise and with TNS reporting that there were around 833m grape consumption occasions in 2005, the potential is definitely there to get more of Egyptian grapes on the water. Competition comes in the form of late red grapes from Chile, late white grapes from India and early varieties from Morocco and Spain. Guindi recognises this. "Egypt is pretty much the best source [for grapes] throughout their traditional period, especially the middle part of the season - Morocco and Israel chip away at either ends of their season though. Some fantastic work is being done in Israel, and they too are producing earlier," he says.
Early seasons are bringing on competitive prices and an increase in business, and therefore the answer to many of the issues faced by Egyptian growers and exporters are all arguments to extend the EU trade window. According to Raouf, Egyptian growers have been experiencing an early season with certain varieties of grapes that bring a high yield. He says: "Egyptian grapes have a very small window and fierce competition from others. This is why growers and exporters are plumbing to overcome challenges and digging into quality and price competitiveness to hit their targets."
The traditional season for Egyptian grapes starts at the end of May and finishes in July, but with growers increasingly using methods to speed up the process, it appears to be starting earlier and it would be a waste to ignore this chance to trade with Europe. Trade Waves has successfully utilised a new grape covering system, which secures the availability of top-quality grape three weeks earlier than normal. Exporter PICO Modern Agriculture Co covers 75 per cent of its grape crops with plastic and is continuing its extensive research to reduce chemical use and go for more bio-chemical alternatives. Omar H El-Naggar, trading and development manager at the company, which exported 3,000t of grapes out of Egypt last season, predicts an "earlier crop than last year, better quality and slightly higher volumes than those of last year".
A larger window of free trade with the EU would bring money to fund more innovations within the industry and in turn would create better quality and larger yields. El-Hodaiby sees it as the best way forward. "If the EU extends the trading window, Egyptian exports will gain another competitive advantage," he says. "One of the obstacles that used to reduce exported quantities was custom duty, that pushed down prices so they were no longer competitive against European product. If the trading window is extended, this means that the cost of Egyptian produce will decrease, thus the price can be competitive again".
Husam El-Din Awad, owner and managing director of exporter Fruitex, which supplies major retailers such as Tesco, Sainsbury's and Marks & Spencer, has witnessed an increase of roughly 10-15 per cent growth in exports last season and expects future growth to be constant. He also believes that there are still issues to overcome within the industry. "The main issue facing the industry at the moment is the transportation issue," he says. "Egypt has recently exploded with growth in the supply of fresh fruits and vegetables earmarked for the EU, but lacks the transportation resources to sustain this growth."
With 70 per cent of Egyptian grapes exported by sea and the remainder by airfreight, Raouf says: "Egyptian growers and exporters want to sustain the competitive edge in the UK market, and freight is a crucial factor that affects the final price." El-Naggar agrees, saying that logistics and consistency of sea freight at peak times, shortage of space on vessels during peak season, inconsistency of cruising times and arrival days are all issues the industry has to work with.
If these creases can be ironed out, the Egyptian grape industry will be able to concentrate on what it does best; growing high-quality produce. The Egyptian grape industry has come on a long way in the last decade and is set to improve further. As Raouf says: "I'm a strong believer in Egyptian fresh produce's actualand potential capabilities."