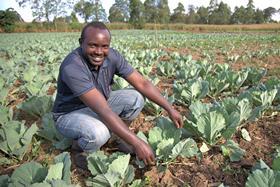 Aldi has helped train and support almost 400 aspiring Kenyan farmers during the first year of its partnership with agri charity Farm Africa.
The discounter has donated £260,000 over three years to help fund the 'Growing Futures' project, which aims to give young people the skills needed for a sustainable career in agriculture.
Based in Kitale in western Kenya, the group of young farmers have learnt skills such as crop rotation, irrigation, planting, harvesting and pest management, as well as training in financial management.
The project has established 21 demonstration plots for crops such as mangetout, French beans, cabbage, kale and chilli peppers. The first group of 118 farmers have seen yields of 96,500kg of cabbages and 37,200kg of French beans in the first year.
The first vegetables to have been sold achieved profit margins of 62 per cent for cabbages and 50 per cent for French beans, Aldi said, while new buying contracts have helped provide a more reliable income in the future.
Communications director at Aldi UK, Mary Dunn, said: "By collaborating with Farm Africa we've had a tangible and positive impact on people's lives, and are helping young people to escape the cycle of poverty.
"Learning these new skills is truly making a difference in these communities. We are proud to be the first and only UK supermarket to support Farm Africa with a project of this type."
Farm Africa's Penny Ruszczynski said: "Young people make up a huge proportion of the population in Kenya, where 80 per cent of the population is under the age of 35. In partnership with Aldi UK, we're helping young people in rural areas grow a brighter future by developing the horticultural and business skills they need to set up successful, profitable horticultural enterprises."
One of the farmers involved, Joseph Kaunda, said: "The Growing Futures project trained me on how to improve productivity and now I am able to grow different grades of vegetables for different buyers. This has been very beneficial. Through the sale of cabbages, I was able to buy a water pump and I am currently running my own vegetable production as a separate entrepreneur from the group."