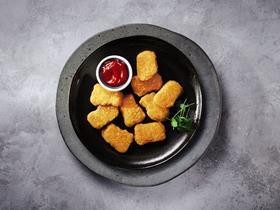 Aldi has unveiled a new plant-based food range with prices starting at just 99p.
The discounter hopes to tap into the growing popularity of meat-alternative meals with its new Plant Menu range, which has launched into stores this week.
It includes a two-pack of Vegan Rolls for 99p, which feature three flavours including Meat-Free Sausage Roll (mushroom, sage and nutmeg), Sheese and Onion Roll (mozzarella and onion) and BBQ Roll (shredded jackfruit and grilled red pepper).
At £1.49 there are No Chicken Nuggets and Fishless Fingers, while a No Chicken Masala is selling for £1.99. The latter won Best Vegan Ready Meal at the PETA 2020 Vegan Food Awards.
Enjoyed this free article from Fresh Produce Journal and its team of editors? Don't miss out on even more in-depth analysis, plus all the latest news from the fresh produce business. Subscribe now to theFresh Produce Journal.