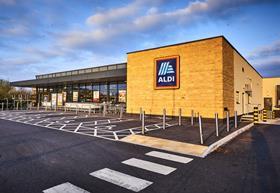 Aldi has begun selling groceries online in the UK for the first time in response to the coronavirus crisis.
In a move that will be watched closely by rivals and suppliers as a potential precursor to a wider launch into online retail, the discounter will be selling ambient food parcels online from 17 April to help vulnerable people and those self-isolating.
The parcels will be for home delivery and contain 22 grocery products, including antibacterial handwash and a four-pack of toilet roll.
The product range also features premium plum tomatoes, baked beans, tomato soup, sliced carrots and a four-pack of sweetcorn, among other things.
The parcels are only available online and will sell for£24.99 inclusive of delivery, limited to one per customer.
The move follows a number of initiatives by Aldi aimed at helping the elderly and vulnerable, including donating £250,000 to Age UK and introducing reserved opening times for vulnerable shoppers.
Fritz Walleczek, Aldi's managing director for corporate responsibility, said: "We are committed to providing quick, safe and affordable access to food for all our customers and understand that, for some, visiting one of our stores is not an option at the moment.
"We're constantly looking for new and better ways to support our customers in these uncertain times and I'm hopeful that these food parcels will make life a little easier for some of the country's most at-risk people.'