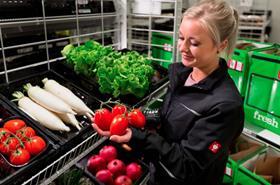 Amazon is preparing to launch a super-fast grocery delivery service in the UK, it has been reported.
The Ultra Fast Fresh service, whichThe Grocerreported on 17 April, citing suppliers, involves retrofitting nine existing UK depots so they can handle fresh produce and carry out grocery orders within hours. The first is in London and the second in Leeds.
According toThe Grocer, Amazon's grocery delivery service Amazon Fresh could be made a free benefit of Prime in the UK, doing away with the monthly add-on fee or per-order charge that currently applies.
The new service is aimed at bringing rapid grocery delivery to almost 40 per cent of UK households by the end of the year, suppliers told the magazine.
Part of Amazon's Fresh service, Ultra Fast grocery delivery is already available to Prime members in the US free of charge.
The move comes as Britain's biggest online grocer Ocado has been struggling to open additional grocery delivery slots due to unprecedented demand during the coronavirus lockdown. The retailer has been forced to limit delivery slots to existing customers only.