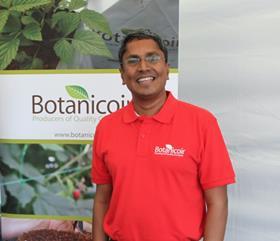 Botanicoir has invested over €1 million in a new drying facility in Sri Lanka after heavy rainfall threatened production.
The Sri Lankan monsoon season is normally from September to November, but during 2015-16, unprecedented rainfall affected the whole coir industry. Coir pith is normally dried by sunlight, however continuous rain meant that it could not dry, causing knock-on effects for UK growers who use coir substrate to plant crops.
Botanicoir moved to invest €1.2 million into the first completely automated coir drying facility to ensure the situation would be avoided in future.
The 30m long drying facility, created following a year of research and development, will be powered by a biomass boiler fuelled with renewable wood chips. Heat from the biomass boiler is controlled by a number of sensors, with six different types of heat applied at various stages depending on moisture levels. Only one person is required to control the machine.
"For the 2015-16 season, as we were unable to dry the coir, the volume we needed to ship was bigger, meaning a cost increase of 350 per cent," said Botanicoir managing director Kalum Balasuriya. "We didn't pass this cost onto customers. But we're aware that it's unsustainable to risk such a situation happening again, this is why we're investing in a new drying facility."