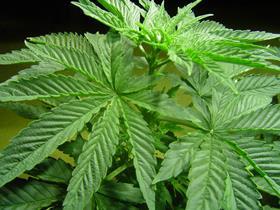 Drugs minister Norman Baker is expected to recommend the legalisation of cannabis for medicinal use in a letter to the health secretary Jeremy Hunt.
Newspaper The Guardian claims that Liberal Democrat Baker is to appeal for changes in the law amid concerns that people suffering from conditions such as severe epilepsy or side effects from HIV/Aids treatments are breaking the law to secure the substance, which is known to relieve such symptoms.
It is also claimed that in his letter to Hunt, Baker will say current laws for the use of cannabis are highly restrictive. The cannabis-based drug Sativex, which can be used to help relieve the symptoms of multiple sclerosis, can be prescribed by GPs, though it is highly expensive.
The drugs minister is quoted as saying: "I think it is time to reconsider medicinal properties of cannabis, given what I've learned in my role as a minister. I've seen more and more evidence that cannabis can provide genuine medical benefits to treat a number of conditions. There is a growing body of research that shows the medical properties of chemical components of cannabis.
'I am uncomfortable that there are credible people I have met who tell me that cannabis is the only substance that helps relieve their condition, but not only are they stopped from accessing it officially but have to break the law to help their health.
'Other countries recognise that cannabis does have medicinal benefit and we need to look again at this to help people who are ill. This is a quite separate matter from the recreational use of cannabis, which is not at issue here.'
However, the British government has reiterated that it has no plans to bring about such changes in the law.
In hte US, some 23 states have legalised the sale of cannabis for medicinal purposes. Already Colorado is experiencing a shortage in the amount of legally grown cannabis, with over 40 per cent more cultivation needed to meet demand. According to reports in USA Today, the state is encouraging growers to ramp up their efforts to eliminate any usage of illegal marijuana.
Independent cannabis expert Allen Morgan said that putting speculation over the future of British laws regarding medicinal use of the drug to one side, practically it is not an easy crop to produce.
Morgan explained that medicinal cannabis has to be grown indoors, and under lights, which can incur substantial costs.