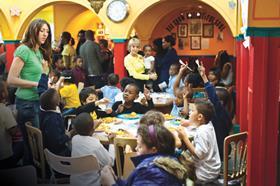 When we think of malnourished children, the images that spring to mind come from Africa and the results of extreme weather disasters or war that see starving families scrabbling for food parcels.
How many envisage a flat in London's Peckham or Brixton? Across the capital there are children living below the poverty line, with food either scarce or just simply not there.
"People would be amazed that here in Britain there are children so hungry that they would draw pictures of food on paper and eat that paper," says Camila Batmanghelidjh, founder of the charity Kids Company. "I have kids that have done that. Or they peel the plaster off the wall to eat it for the sugar. Children are scavenging in bins."
It is hard for many to believe the extent of the problem, but the charity is seeing cases of rickets, children with hair falling out and some so malnourished they are hospitalised. Food poverty is so acute that Kids Company is feeding some 3,000 children each week at five London centres. It has launched a new appeal, the Plate Pledge, asking individuals and businesses, especially those involved in food supply, to help support this work.
While Peckham is being lauded in the style press as the latest fashionable destination for food experiences, with new restaurants opening and a farmers' market stocked with artisan produce, hidden within the area are families that can barely afford the basics.
The charity plays a paternal role for children whose own parents cannot provide for a number of reasons – some are refugees with no access to benefits, while others are living chaotic existences due to addiction or mental health problems.
Since the cap on housing benefits, at a time when the city's rental costs are skyrocketing, many parents simply cannot make the low wages or benefits they receive stretch to regular meals. Whatever the circumstances, Kids Company does not judge and instead gets on with the practical work of feeding the children and helping them to break out of the cycle of poverty. It not only cooks for the children, it provides social and educational services for some of the most marginalised families and young people. However, funding for this work is being eroded by the priority of providing meals, with the organisation spending around £1 million annually on supplies. As with many charities, it does not receive state funding and has to raise the cash in any way it can. The money comes from 1,700 different sources and the charity operates on a month-to-month basis.
"I am sitting here in July and I don't know where my money is going to come from in August," says Batmanghelidjh, an amazingly positive woman considering the daily despair that the charity is faced with. "That is why we decided to reach out to food suppliers to help take the burden off us. They can do this either by donating 5p from the cost of a product to our food programme or by donating food."
Already, one fresh produce supplier has heeded the call for help and is donating, on a weekly basis, vegetables that while perfectly edible, would be thrown away as they do not meet Class I or II requirements.
Barfoots was introduced to Kids Company by Kids Company's David van Eeghen, and as Jon Barfoot says: "This is something we could do here and now. It doesn't cost us anything in time or money, but I felt that throwing away food that had nutritional value when it could come here would be criminal."
The West Sussex-based business not only grows food in the UK but also on farms in Africa as well as importing produce from around the world. Imports are airfreighted into Heathrow before being delivered to the main distribution hub in Bognor Regis. It is here that the produce is classed and where vegetables that do not have a retail value are returned to the Heathrow depot, where Kids Company collects the goods. Barfoot adds that the firm has to pay for the delivery truck to return to London and therefore whether it is empty or full, it is a cost that has to be borne. "The food is put in second-hand cartons that would be going for recycling anyway," he explains as we discuss the logistics in the charity's colourful Southwark headquarters, an extension of its affirmative attitude.
"We put it on white pallets that we cannot use for retail. A lot of packaging gets delivered on white pallets and then we have to pay for them to be taken away to an incinerator. The produce is then put in a dispatch area and then on the back haul."
The produce ranges from misshapen sweet potatoes to marrows and butternut squashes, all great for making into soups and stews. "Sometimes we get a huge glut of product that if we were to send to the market would crash prices. But all of it has a nutritional value," he says.
Countless studies have shown the link between poor diets and stunted learning capacity in children. Anti-poverty organisation The World Bank published research that shows the effect of undernutrition on young children impedes behavioural and cognitive development, educability, and reproductive health, thereby undermining future work productivity. As the scientists Carl Sagan and Ann Druyan say: "When there isn't enough food, the body has to make a decision about how to invest the limited foodstuffs available. Survival comes first. Growth comes second.
In this nutritional triage, the body seems obliged to rank learning last. Better to be stupid and alive than smart and dead."
Batmanghelidjh says the organisation gets many donations of sandwiches. "So to get real vegetables that the families can take away and cook at home and that we can cook here is fantastic. It brings a sense of joy. When you give it to people you see the appreciation that they have for it."
Barfoot points out that as part of its operations in Senegal, the company has provided infrastructure and developed food programmes that benefit the local community. "We are doing this work in Africa, and then we saw there was a need here so of course we are going to help," he adds.
"Thanks to the gifts from Barfoots we are able to help many who have nothing," says Batmanghelidjh. "It's a measure of the work that we get a lot of young people, the kids that arrived having no food, who go on to university. You give them the food, you find them somewhere to live, you put them in education and you watch them flourish."