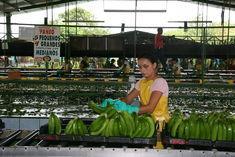 Costa Rica will look to its banana industry to support its economy as the country recovers from flooding and a recession-related hit on tourism.
The Costa Rican banana market, worth $674.2 million (£456.6m) in global exports, was hit hard by drought in the first half of 2008 and then floods in November, severely affecting volume.
The National Banana Corporation, Corbana, said it expected volumes to return to traditional levels in 2010 with exports this year down an estimated six to eight million boxes on the 103.1m produced in 2008, itself a 9.3 per cent fall on 2007's export volume.
Jorge Sauma, ceo of Corbana, told a delegation of European journalists last week: "We are trying very hard to recover from this. It is important that we have very high yields as it is the only way to stay competitive against the ACP countries, which have lower wages.
"With the fall in tourism, the banana industry in Costa Rica has become even more important, as 40,000 people directly rely on it, and 100,000 indirectly.
"We have around 44,000 hectares of banana production which is down from around 52,000ha because of the financial crisis in the world."
Corbana has taken a number of steps to arrest the slide in production. Following an inventory of all its plantations, it issued loans from an $8m fund and helped to implement flood defences backed by the government.
Last year, the EU became the country's largest market with 49.9 per cent of global exports, with the US representing 45.6 per cent of the remainder. The UK is Cost Rica's biggest single country market, claiming 25.7 per cent of the market share.