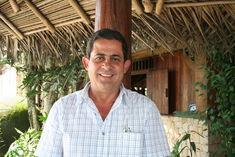 The Costa Rican banana sector has spoken out, following demonstrations by trade union activists in the UK last week outside Westminster Cathedral claiming that the Catholic Church colludes in union-busting activity in Costa Rica.
Jorge Sauma, ceo of Corbana, the Costa Rican national banana corporation, told freshinfo: "Our constitution in Costa Rica guarantees any type of association be it union, co-operative, workers' committee or solidarity organisation. We have complete freedom of association. But it is important to remember that freedom is two-way: any alternative to association is not imposed either. We are a country without an army that uses dialogue, not confrontation, to resolve our problems."
Last week, one of the UK's biggest unions, the GMB, launched its campaign to ask the Pope to end what it claims are threats and victimization of members of the Sitrap union. They allege they are being blacklisted by employers who pay sums of money to the Catholic Church which they claim coordinates anti-union activities through the John XXIII School - an organisation set up to promote social justice and development in the workplace in the 1960s.
A spokesman for the GMB said: "Banana workers in Costa Rica are poorly paid and their attempts to form unions are ruthlessly repressed with the support of the Catholic Church."
But Sauma defends his industry, pointing to the fact that on average, Costa Rican banana workers enjoy better pay and social services than in many other banana-producing countries, earning about $16 a day, well above the minimum agricultural wage of $12.43, they also have many social benefits covered on top of this such as accommodation, household utility bills and medical cover which are enshrined in the Costa Rican labour code and other laws. He said: "At least 25 per cent of the initial investment for the development of a banana plantation is destined for labour and social infrastructure."
Corbana also defended the solidarity organisation movement of which Juan XXIII School is an example. A spokesman said: "GMB claims that Solidarista organisations have been presented as substitutes for trade unions as part as a unique solution to labour conflict'. Perhaps the most important fact about 'solidarismo' is that it was never intended as a substitute to any other form of social organisation, but as an option for the working population."
Workers pay an annual contribution and receive subsidised foodstuffs as well as social services. The spokesman said: "The underlying idea of this system is that people band together in order to organise better the development of their enterprise and their families, on the economic as well as the physical, intellectual and social levels. Solidarism does not belong to a political party - moreover, it encourages its members to support and strengthen democracy. It is a model that, just as co-operativism, has become one of the drivers of economic and social development in Costa Rica."