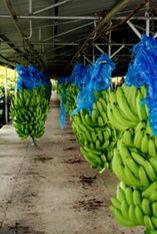 Costa Rica's banana production has been affected by heavy rainfall over the last two weeks.
The rains began on November 18 and increased in intensity from the weekend of November 22-23. The main area affected was the slopes overlooking the Caribbean side of the Central American country, where some 98 per cent of its total banana production is concentrated. The more southerly and central plantations were hit harder than those further north. Sixaola, Talamanca and the largest production districts of Matina and Siquirre were most affected.
According to national banana corporation Corbana, at least 10,300 hectares have been hit, which represents some 24 per cent of the total 44,000ha under production. Jorge Sauma, ceo of Corbana, told freshinfo: "So far, 234ha have been reported to be completely lost. And quite a large percentage of the remaining production area was under water for more than 36 hours, which is the critical timeframe for plants to suffer serious physiological damage." Some 4,130ha fall into this category.
Sauma calculated that 4.3 million 18kg boxes are likely to be wiped off the export figures as a result of the inclement weather, with a value of $30.8m (£20.8m).
Work to assess damage is ongoing and efforts to help plantations recover will take some time. Sauma said: "Corbana will contribute with loans for those producers who need them. The national government will also be working on road and bridge infrastructure."