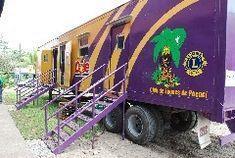 Dole has opened a mobile medical unit to rural communities in Costa Rica to give access to preventive medicine and specialised health attention.
The mobile unit consists of a container divided into three fully equipped medical rooms, which provide patients with a wide range of medical services such as general medicine, ultrasound scans, pediatrics, blood donation, osteoporosis analysis, vaccination campaigns and laboratory exams.
The unit was donated to the Lions Club of Costa Rica, which is now responsible for managing it, with Dole's support, co-ordinating the medical staff's planning and organising health campaigns.
Danilo Román, general manager for Standard Fruit de Costa Rica, said: "Even though Costa Rica's social security system is well developed and has local clinics in most of the communities of the Atlantic Zone, this mobile medical unit will be an additional tool to bring specialised medical services to remote areas, services that are mainly provided in urban areas. We expect this new unit to treat over 10,000 people per year."
This unit was co-funded by Dole and Spar through an extra contribution made by consumers during a campaign run in Austria between February and May 2009.
Sylvain Cuperlier, Dole vice-president and director of worldwide corporate social responsibility, said: "After the school was built in Ecuador in 2008 together with a Norwegian customer, this joint initiative with Spar further demonstrates the common interest of Dole and its customers in supporting the communities living in production areas. Dole will continue to develop similar partnerships, whether in the social or environmental area."