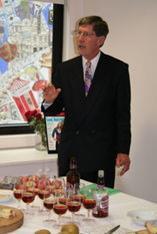 Celebrating the launch of the English apple season, representative body English Apples and Pears last week invited members of the press to sample some early varieties at an exclusive tasting event in London.
Chief executive Adrian Barlow gave food writers from a wide range of national publications an insight into the different eating qualities of a number of different English apples including Early Windsor, Gala, Cox, Spartan and Egremont Russet, which were all served with complimentary beers and cheeses.
The tasting session rounded off a busy week of marketing efforts for EA&P, which included the season's official launch at Shakespeare's Globe Theatre, London, as well as 18 different radio interviews undertaken by Barlow and an appearance on BBC television.
Barlow said: "We do believe that English apples are the finest in the world. The issue of food miles issue is also very important and will encourage more people to buy English. We want to encourage growers to come in and get their relatives to come in because we believe there's a big future for the industry."
He added that he was especially pleased by the backing the season had so far received from multiple retailers.
"More supermarkets are selling more varieties now - that's fantastic and we need to get them to do that more. The support we are getting from them is greater this year than ever before. They are going out of their way to make sure they are stocking English apples and giving them the right shelf space."