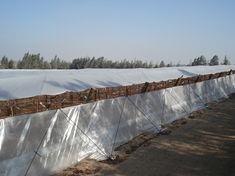 Egyptian fresh produce is plentiful during the spring, but key lines could come under pressure as unusual weather and the poor economic climate take their toll.
First up, the grape sector is expecting lower yields this year due to a milder winter. Dr Ibrahim Tadros, chairman of the Egyptian Producers' Consortium (EPC), explains that because grapes need a certain number of chill hours - preferably under 4°C - the mild winter had a major effect. "Production has been affected significantly across the country, and both the Superior and Flame seedless varieties have been hit," he says. "Superior more so; yields could be down by 30 per cent."
Despite the unusual weather, Ahmed El-Hodaiby, general manager of exporter Trade Waves, says fruit is progressing well and bunches are expected to be relatively uniform with "moderate productivity".
Trade Waves plans to increase its sendings to the UK and an expansion plan has been devised with its UK partners to ship 500 tonnes of Sugraone and Flame in late May through to early July. The firm will also ship red variety Crimson in August and September.
Trade Waves began trialling the TELO covering system for grapes at the end of 2006 and plans to increase the amount of area under this Italian production method, which covers just under 50 per cent of its Sugraone. El-Hodaiby says the system has led to an improvement in grape quality and covered fruit is harvested 20 days earlier.
Belco ships both red and white seedless grapes to the UK. "We start the season with Early Sweet and follow on with Sugraone," says Amr El Beltagy, Belco's product manager. "Both varieties are equally important and they overlap during harvesting. Early Sweet is very important to start the season. However, more needs to be done to bring it up to the highest quality and production levels possible, as it is still a relatively new variety. We also ship Flame."
It is early days, but El Beltagy is confident that the crop will be good quality and harvesting will not be delayed. In the last few years, the company has planted new areas of grape and production is rising.
Belco is on course to raise its grape shipments to the UK this season. El Beltagy says its customers have increased their programmes and the firm is also talking to more supermarkets and importers in the UK and Ireland. In the past, the UK was a quality-oriented market that paid good returns, he says. However, with the economic crisis and weak sterling, there have been some changes.
"The economic situation has significantly reduced profitability for exporters to the market and supermarkets have started to demand different specifications to reflect consumer behaviour," he says.
However, Belco is keen to emphasise that demand for grapes has not fallen and El Beltagy speculates that prices may even increase slightly to partially cover the shortfall in currency. "We just hope that the market and currency will regain stability, as operating under these new challenges is not easy," he tells FPJ.
In order to overcome the weak sterling and its effect on profitability, Trade Waves has been working with its UK partners to reduce handling and production costs, both at origin and destination.
"We have invested a lot of time and effort into developing our partnership with partners in the UK and we are not willing to sacrifice this," says El-Hodaiby. "We look for long-term business co-operation and we look to the future, while overcoming current challenges."
In addition to grapes, Trade Waves is considering shipping other fresh produce lines such as pomegranates, citrus and salads. "We are still evaluating the possibilities and we expect to set a development plan by the end of this year," El-Hodaiby tells FPJ.
Belco is also exploring its options and having already achieved GlobalGAP, British Retail Consortium (BRC) and Tesco Nature's Choice certifications, the firm also acquired Field to Fork accreditation last year. In addition to grapes, Belco ships strawberries, peaches and spring onions to the UK. "We begin the peach season with Florida Prince, followed by Desert Red," El Beltagy says. "There is a huge potential for peaches and nectarines from Egypt to the UK. However, there is still more development to be done in the coming years to reach better results and Belco is working hard to develop the crop."
Normally, Belco begins the spring onion season in October and ends in April. However, this season, exports have risen and the deal has been extended. The producer began harvesting in September and is hoping to finish in May.
Citrus remains a key category for Egypt and producers faced challenging times at the start of the season, says Fruitmann's Prag Mistry. He represents Egyptian producer SONAC and says that the citrus sector has been hit by a "double whammy".
"Egypt started early this season, but there was still an overhang of stock from South Africa so we began with plentiful fruit and downward pressure on prices," he tells FPJ. "On average, we have seen prices drop around 10 per cent lower across the season to date."
However, despite the weak sterling and softening in prices, Egyptian exporters are keen to continue their advancement in the UK. Mainland Europe, in particular Germany and the Netherlands, also enjoyed greater volumes of citrus from Egypt, especially as the Russian rouble tumbled and Egyptian suppliers looked for more stable markets.
Furthermore, the juice market was also caught off guard in late January when Sunjuice Ltd in Wales went into administration. "It was a big shock and meant that some fruit originally destined for Sunjuice was absorbed by two other processors," Mistry explains. "Some of the fruit importers have been affected significantly."
Mistry says there has been some correction in the market in recent months, although the sector could still be facing uncertain times and speculators could further disrupt the season.
Nevertheless, Mistry says that the quality and size of the Egyptian citrus crop is growing year on year, as good controls on exports have been maintained.
EPC has shipped oranges to the Netherlands this season but not to the UK, as prices have been low due to high yields from Spain and Turkey, Tadros tells FPJ.
Meanwhile, the potato season will be extended slightly this season and EPC is anticipating a good market in May. The firm has trialled two new potato varieties in the UK this season.
"We have just shipped small volumes of Oceania and Valor to the UK for the first time [in mid-April]," Tadros says. "Oceania was originally a French variety, and Oceania and Valor both have a good shelf life and travel well."
According to Tadros, prices are holding up well, but potato quantities are down from 2008. "However, in terms of quality, we have had no problems," he adds.
A number of Egyptian firms have been expanding their operations and Trade Waves is looking to increase its supply capacity by expanding its grower base. "The idea is not only to get new growers, but also to develop their capabilities and improve their operations," he says. "Continuous training, experience sharing, quality supervision and close monitoring are all means of Trade Waves' business development."
Trade Waves has set out its long-term vision and plans to introduce new varieties and technology, as well as develop packaging procedures. In addition, the company has implemented a fully automated e-trace system. "The new system enables detailed tracing of each pack back to the field," explains El-Hodaiby. "With a scanned unique barcode, all production, treatments, chemical applications packing, cooling and transport history can be retrieved."
In the past, the Egyptian fresh produce sector has been criticised for its inconsistent approach to the UK's stringent demands. However, two organisations are keen to shrug off these accusations and have developed key strategies and projects to bolster Egypt's profile.
This year is going to be a crucial one for the Egyptian Traceability Centre for Agro-industrial Exports (UNIDO/Etrace), as it plans to mobilise a new development project assisting farmers' associations and small-scale agro-industrial operations in Upper Egypt. "Our strategy for Upper Egypt aims at improving the competitiveness of the agro-industrial supply chain in this region and strengthening its links to export and domestic markets, which is of utmost importance to the economic development of the country," explains Alaa Fahmy, acting national project director. "The focus will be on developing and using the tools needed to support and sustain agribusinesses."
There will be a three-pronged approach involving the development of agribusiness support services centres (ASSC), as well as provisions for technical and marketing services through the developed centres. "The development will address existing local horticulture, spices and medicinal plant supply chains with the focus on bio-trends and organic production," Fahmy says.
According to UNIDO/Etrace, Upper Egypt offers great potential for increased agricultural production. "The same products that are grown successfully in Lower Egypt can be grown just as successfully in Upper Egypt and, more importantly, the cost inputs required for this production are significantly less," Fahmy says.
Upper Egypt also enjoys fertile soil and water, good availability of arable land, pest-free areas, cheaper labour costs and a climatic advantage that enables growers the chance to harvest three to four weeks early.
Other plans for 2009 include providing further technical support to those Egyptian organisations implementing automated traceability systems and co-operating with the TVET EU project and the union of producers and exporters of horticultural crops. The plans also include providing programmes to field school facilitators on organic farming, traceability, quality and food safety management and IT applications in agricultural operations.
According to Fahmy, more than half of Egypt's packhouses now have reliable automated traceability systems in place. UNIDO/Etrace provided technical assistance to a large number of producers and exporters to establish traceability systems last year. The organisation has further developed a traceability manual for fresh produce operations and another manual for agro-industrial operations.
According to Fahmy, Egyptian exporters face a number of challenges when supplying the UK. These range from adhering to a consistently high level of product specification to meeting traceability requirements. Rising shipping costs and the devaluation of sterling are also obstacles.
However, he says that high demand for a wide selection of good-quality fresh produce will benefit Egypt. As the year gets underway, Fahmy is keen to emphasise that UNIDO/Etrace is quickly evolving. While traceability will remain a key focus, other aspects of the supply chain will also be scrutinised. "The previous phase focused on exporters being the locomotive of the chain," says Fahmy. "UNIDO/Etrace will now exert more effort on the supply side, with greater focus on small-scale producers and operators."
Blue Moon, a private Egyptian company that provides services across a broad spectrum of management systems for the Egyptian fresh produce sector, says that trade is the engine of growth. "Compliance to international regulations and private standards improves local practices and opens global markets," says Manal Saleh, general manager of Blue Moon. However, she adds that opportunities are hindered by the inability of many Egyptian operators to communicate fluently in foreign languages.
To solve this problem, Blue Moon has developed an Arabic capacity-building programme for the supply chain, in partnership with GlobalGAP, the BRC, Linking Environment and Food and Sedex.
"Sedex provides a common approach to evaluate and help manage the social and environmental performance of suppliers," Saleh says. "And Blue Moon highlights the links between international requirements and local legislations, regulations and standards."
According to Saleh, Blue Moon has helped many local companies in different sectors including fresh produce, to understand and meet the responsible sourcing requirements of their UK and global customers, through its approved training programmes.
UK importers and retailers have been particularly helpful and Saleh says that future plans for Blue Moon include focusing on helping more Egyptian suppliers to understand and implement local and international requirements. "This should allow them a fair opportunity to trade their products and raise the profile of Egypt," she tells FPJ. "This is an important drive on which our country's sustainable economic growth and future prosperity depends."