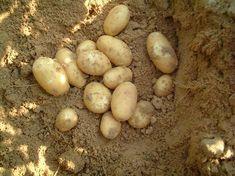 Egypt normally begins exporting potatoes to the UK from late December to early January, with the season winding down in March. Potatoes are one of Egypt's biggest agricultural earners, with production averaging a substantial two million tonnes a year. Shipments totalled 337,263t in 2005/06 and accounted for an impressive 35 per cent of Egypt's agricultural exports.
Europe is a major importer and increased its intake to 298,000t during the 2005/06 season. This represents a 19 per cent rise on the previous deal. However, although more European countries, including Germany, are increasing their imports, the UK's love for Egyptian potatoes is a little more uncertain.
The UK was once the main importer of Egyptian potatoes but demand over the past few seasons has been volatile. Importers here have brought in just 15,875t of Egyptian potatoes in 2004 although the situation has improved over the last couple of seasons. According to Defra statistics, the 2006 Egyptian potato import season amounted to 20,785t, while 2005 imports were slightly higher at 21,663t.
Dr Ihab Tadros, chairman of Egyptian Potato Consortium (EPC), says this year's potato crop will be similar to last year. "The acreage has stayed the same and no new land has been devoted to potatoes," he tells FPJ. "However, the weather has been favourable over the past few months so yields could be a little better than last year."
In line with static production, Dr Tadros, who visited Egypt in early January, thinks this year's import volumes are likely to stay at 2006 levels. "The only change I predict is that prices will be strong," he says. "They'll start high and remain high due to the shortage of potatoes in Europe."
The potato shortage has been attributed to poor weather conditions as a wet autumn, followed by a mild September, affected storage quality.
First shipments of the Nicola potato variety left Egypt on December 30. Not only does EPC claim to be Egypt's largest potato shipper to the UK, but Dr Tadros also says that it was the first handler of Egyptian potatoes this year.
EPC produces potatoes in the Salhia area, which is located between Cairo and Alexandria. Its packhouse is in Kafr El Zayat in the Cairo-Alexandria corridor.
Other exporters, including Nahdet Misr's Helmy Eissa, are hoping that Egypt could enjoy a comeback this season. "The UK used to be the biggest market for Egyptian potatoes but shipments have been decreasing for a number of years," he says. "With the EU shortage of potatoes, however, we could see an increase in 2007."
Eissa is confident that exports to the UK could even rise by 10-15 per cent. Nahdet Misr shipped its first load of potatoes to the UK earlier this month and was due to land on January 16.
Leading potato producer Sonac exports around 80,000t of potatoes each year, according to the company's ceo Mohamed Khalil.
With the vast majority - some 50,000t - being sent to the EU, Dawoud is optimistic about prospects this season.
"This year will witness an increased demand for fresh potatoes in the EU," he tells FPJ. "We are doing our best to fulfil this potential and a lot of agreements are taking place at the moment."
Sonac ships under the Chariot brand but in the 1970s, it promoted its potatoes under the Aratra mark. This season, it is looking to revitalise the Aratra brand in the UK market once again.
Similarly to other producers, Sonac has invested heavily in its operations, which consist of three potato farms and a state-of-the-art packhouse. Khalil says: "All of our farms are EurepGAP certified and are located east and west of the Nile river. We grow on more than 2,500 hectares of land. In line with environmental concerns, we are looking at ways to reduce maximum residue levels."
Sonac's packhouse has achieved BRC, HACCP and ISO accreditation and the company is keen to progress further. "Sonac is working towards IFS and ISO 22000 in order to satisfy market needs; we want to offer a complete system of traceability," Khalil says.
Meanwhile, the Egyptian potato sector has been further bolstered by a lower incidence of brown rot in the past two years. Producers have worked hard to eradicate this disease after an increased number of occurrences in the early 1990s resulted in the EU imposing a ban on Egyptian potatoes.
The ban was only lifted once Egypt had established a strict control system and introduced pest-free areas for the production of potatoes that were exported to Europe.
Fast forward to 2007 and many Egyptian producers are keen to stress that brown rot is no longer a problem.
"There was only one case of brown rot found in 2006 and one in 2005," says Dr Tadros. "I'm confident that the number will continue to be low in future years."
He adds: "Potatoes are now only planted in pest-free areas and there's better seeds coming in. These controls means that the sector is moving in the right way and brown rot is being restricted."
One UK source agrees that brown rot is no longer the issue it once was. "There have only been a few findings in recent years and I personally feel that the threat of brown rot has been blown out of proportion," he says.
Instead, Egyptian producers are looking forward and are keen to rebuild their market share. Many are experimenting with new varieties and Daltex, in particular, has had some success with introducing the Princess salad potato to the UK.
According to an official source, producers are keen to target multiple retailers to recover their share in the UK market.
Certainly, the number of UK importers handling Egyptian potatoes has declined in recent years. "We used to handle Egyptian potatoes about five to six years ago but we don't get too involved as we're 100 per cent behind Cyprus," says one UK-based importer. "It's a different product but the window is the same. We see Egypt potatoes as a bit of a stop-gap filler when other potatoes aren't available."
"If you asked me how many importers were handling Egyptian potatoes, I'd have to say there's not much activity going on at all," says another UK-based importer, adding that retailers are still active although their intake is lower compared to previous years.
Improvements in storage techniques have enabled Europe to extend its season. This development, coupled with larger exports from Egypt's competitors, most noticeably Israel, have had a hand in the demise of Egyptian potatoes on UK shelves.
There has certainly been a shift in the marketplace and EPC believes this trend looks set to continue. "Exporters are sending fewer potatoes to the UK and more to Europe," Dr Tadros says. "There's strong demand, particularly in Germany, and prices are attractive."
However, Dr Tadros believes that educating UK consumers about Egyptian potatoes is one initiative worth pursuing. "There's only a few producers who grow new potatoes at the beginning of the year and informing UK housewives, through retail promotions, would help," he says. "Cyprus, Morocco and Israel all produce at the same time as we do but Egypt is the largest producer."