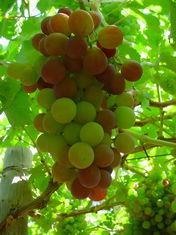 A number of Egyptian grape producers are busy improving and extending their facilities and investments in growing techniques and research and development are key priorities for many.
With many facing market challenges head on, producers believe they can afford to gun for growth in the UK.
The table grape season normally begins in late May/early June and runs through to September, with the bulk of export volumes reaching their destinations in June and July.
Leading table grape producer, Fruitex is keen to extend its season and has embarked on an ambitious project to start production from May 1.
Fruitex exports to a significant number of countries. However, 90 per cent of its total volume is directed to UK retailers, making the market a primary focus for the company, according to Husam E Awad, managing director.
"The UK is a very demanding market for premium, consistent quality table grapes," Awad says.
However, he believes that Egypt's natural resources put the country in a strong position: "Stable weather, plentiful fresh water resources and close proximity to the UK are all contributing factors to producing a premium product for that market."
Fruitex has expanded its operations significantly in recent years and believes this will result in fruitful opportunities. "We have yearly growth of around 40 per cent and are confident that Fruitex will continue this growth pattern in 2006, Awad claims, adding that it may even exceed it in the next couple of years following the company's continued increase in production sites around Egypt.
The UK is also an important market for Blue Nile, accounting for 85 per cent of its volume. Blue Nile exported 800 tonnes of table grapes to the UK in 2004/05 and the company's Hisham El Meleigy reports a challenging season.
"Volumes this year were good but the urgency in demand for the second part of the season was not there," El Meleigy explains. "Prices came down much quicker than expected, even in the UK."
Blue Nile notes that many shippers were supplying grapes at the same time resulting in higher than normal volumes. This inevitably impacted on returns and resulted in longer storage periods.
"Next season we hope to achieve 70 per cent of volumes before the middle of June," El Meleigy says. "This would result in more positive returns."
Belco focuses on seedless varieties and produces green and red grapes during the May to August period. It claims to be among the first companies in Egypt to have sea freighted high quality grapes to England.
Belco says it enjoyed strong demand for its fruit this year and like other producers, is aiming to increase its shipments in 2006.
"Our target for the 2006 table grapes season is approximately 4,500t," notes Belco's Ghada El-Azab, QA project manager. "This is higher than last year by around 35 per cent and the varieties that we will be shipping to the UK include Flame, Thompson and Crimson.
Rising demand from UK supermarkets has provided Belco with many opportunities. "Each year our market share in the UK increases which demonstrates our continuous development and our commitment to our customers with regards to quality, safety and competitive prices," says El-Azab. "It shows that Belco is meeting the specifications and standards."
Belco is looking to the future and has adopted a number of initiatives to stay ahead of its domestic and international rivals. The company continuously invests in research and development and is seeking to plant new varieties to prolong its season.
In the last three years, Belco has tripled its packing and storage areas. "We have increased our cold store and precooler capacity and increased our land area by more than 300 per cent," El-Azab says.
The firm has covered some areas of its Superior and Flame acreage with plastic and added wind breaks in order to start its grape season earlier.
With growing focus on presentation, the firm packs in supermarket bags and 500g punnets. Grapes and salad onions represent two of the firm's biggest export lines, although Belco has recently branched out into peach production and began exporting the fuzzy fruit to the UK last season.
While producers believe that they are making significant progress, they are mindful of their rivals activities. According to producers, Morocco and Israel represent two of Egypt's biggest rivals and some believe competition from both producers will intensify as they strive to extend their early season.
But Egyptian producers are ready and willing to confront the competition and are going full pelt to make their facilities as modern as possible. Blue Nile is in the process of completing its third packhouse. "This will be state-of-the-art and give us better flexibility in packing," El Meleigy claims. "This will also have a high care facility which again will increase our options."
Similarly to other producers looking to move forward, innovation is a priority for Fruitex. The grower is in the process of testing and evaluating several new grapes and is aiming to release a new white seedless variety by 2007.
At the present time, organic fruit production in Egypt is at an early stage, with Blue Nile estimating that less than one per cent of fresh produce is grown organically.
"Currently, Belco is not growing or exporting any organic products but our information of the market shows that there is an increase of organic exports from Egypt to the UK and Europe in general," comments El-Azab.
Producers concede that organic production isn't easy. "To be truly organic is a very difficult farming practice to master but we are trying to look at several ways in starting our own 'truly' organic production," Awad says.
As well as the UK and Europe, Fruitex is keen to extend its influence and opened Fruitex Canada in July 2004. The producer has based its North American operations in Vancouver and reported a strong deal in 2005.
"We feel with the continued experience we are gaining in the North American market, Fruitex Canada will grow to be a very strong competitor in the procurement and distribution business," Awad says.