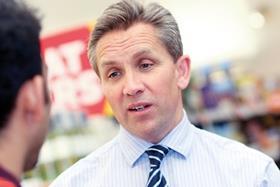 Ex-Sainsbury's CEO Justin King has become the latest investor in the burgeoning market for grocery deliveries.
King, who was in charge of Sainsbury's from 2004 to 2014, has become a senior adviser to the Snappy Group and is said to have made a "significant personal investment" to the Dundee company's Snappy Shopper app.He is currently a non-executive director of Marks and Spencer and a member of PwC.
Snappy Shopper, which was founded in 2017, offers grocery deliveries from local convenience stores in just 30 minutes through partnerships with several regional Co-ops, as well as Nisa, Spar and Costcutter. Users are connected to their nearest local store and charged £1.95 for delivery.
The app provides a similar service to Deliveroo, which delivers small baskets of groceries from major supermarkets includingWaitrose, Sainsbury's, Morrisons, Co-op, Booths and Aldi – many of which have their own delivery services for larger orders.

Unlike Deliveroo, Snappy Shopper does no employ any drivers, with deliveries organised and carried out by its partner stores.
Meanwhile, a number of other app-based services such as Weezy, Gorillas, Dija and Getir have all begun delivering groceries to homes in London and selected other cities in just 10-15 minutes.
Since the Covid-19 pandemic began, demand for home deliveries of groceries has grown significantly, with many shoppers preferring to order online rather than risking a trip to a physical store.
Explaining why he decided to back Snappy Shopper, King told the BBC's Today programme that he loved "real shops", describing corner shops as "great distribution assets".
In a statement, King added: "[Snappy Shopper's] proprietary technology provides local businesses with an affordable delivery solution which enables them to compete in this fast-changing market segment.
"This not only caters to the trend for top up shopping but also an increasing desire by consumers to access and support local enterprises."
The Snappy Group, which also comprises the Hungrrr takeaway ordering app, said itsmission is to "democratise e-commerce technology by providing an affordable solution to local businesses enabling them to compete in the fast-growing home delivery market."
The group is trying to level the playing field in the online channel by giving smaller retailers and convenience stores the same opportunity to reach shoppers that the major supermarkets enjoy.
The group has grown from 220 business partners in 2019 to 1,150 today with more than 700,000 consumers using the platform.