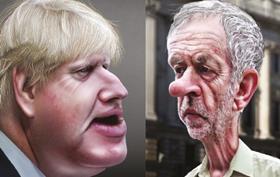 Let's face it, in the eyes of the government and voters, this election is all about Brexit. Three and a half years since the referendum, and every permutation of Brexit is still a possibility.
The polls put the Conservatives in the lead, but things can change. Lib Dems may gain seats in Remain-leaning areas, particularly around London. Barnet is one such seat, held by Defra secretary of state Theresa Villiers (with only a small majority). Another knife-edge seat is Richmond Park, held by Defra minister Zac Goldsmith.
Fellow Defra minister George Eustice holds a more comfortable south Cornwall seat, but it hasn't stopped him coming out all guns blazing. "Labour would turn 2020 into a toxic, tedious torture of two more referendums… hike up taxes, ruin the economy and run this country into the ground," he wrote recently.
Defra is known in political circles as 'death row', because it's where careers go to die. Gove might have bucked that trend, but the fact that we've had several environment secretaries since the referendum only vindicates the stigma. My money is on Villiers moving on, even if she scrapes her seat.
As hard as it is to see past Brexit, this election is bigger than that. Gove's Health & Harmony white paper remains the clearest indicator of the government's long-term vision for farming. Theresa Villiers hasn't tampered with any of it – I'm not sure she'd know where to start. As such, the future policy direction for horticulture is set: higher productivity, better environmental performance, net-zero and delivery of public goods for public money. When it comes to immigration, Boris's 'Australian-style points system', and home secretary Priti Patel's extension of the SAWS pilot does suggest a more liberal approach than Mrs May had in mind too.
Uncertainty in politics is giving way to apathy, from the corridors of Whitehall to businesses and voters up and down the country. Everybody in Defra looks about an inch shorter these days. According to one senior civil servant, staff are treading water, there are no big projects being actioned and no long-term view.
A disenfranchised peer told me they sit in the Lords' chamber 'head in hands' because of how ludicrous it has become. Another said he can't see how the mechanics of government can carry on in the same way in future.
It's a pertinent point. We've seen MPs voting not in the interests of their constituents, but with a Brexit bias. Many are voting simply to keep their jobs. I wouldn't be surprised to see MPs' roles and responsibilities overhauled after Brexit is done, alongside a ban on referendums.
In some circles a rethink of governance is already underway. The Institute for Government has conducted an assessment of how to make policy in future. The Bank of England is under pressure to strip back on committees and assess its board structure and selection methods.
Should agriculture and horticulture do the same? We do like a committee. But is that the most agile way of making decisions? With evidence of 'group thinking' and an overreliance on democracy often leading to poor decision-making (referendums, the banking crisis, company collapses), perhaps farming needs a brave and bold approach to its leadership as we enter a new era.