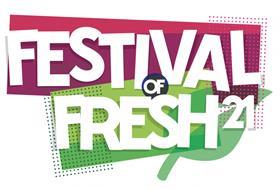 Some of the leading industry groups in British fresh fruits and vegetables are coming together this summer in a unique collaboration to celebrate all that is best in the UK fresh produce business as we emerge from the pandemic.
Festival of Fresh takes place on 13 July 2021 and is organised by the Fresh Produce Journal with the support of the National Farmers' Union, British Growers, British Apples & Pears, British Summer Fruits, the National Fruit Show, and the Worshipful Company of Fruiterers.
"We're so pleased this leading group of organisations has come together with us at FPJ to celebrate the very best of fresh produce here in the UK," said FPJ managing director Chris White. "We're already hard at work on a content programme that excites, generates debate, and offers the opportunity to learn from some of the best in the business."
Festival of Fresh takes place online on 13 July and is free to all delegates based in the UK or anywhere else in the world. It spotlights the very best examples of UK fresh fruit and vegetable production and marketing, showcases innovative examples of best business practice from home and abroad as well as outside the industry, and offers a platform for cross-industry debate and networking.
Every delegate can take part live and also take advantage of the library of on-demand content available after the event. The multi-track format offers a range of top-class speakers, debates, presentations, video case studies, and much more across topics ranging from food retail and wholesale to science, innovation, sustainability and technology.
Festival of Fresh is hosted on the innovative market-leading platform that has been developed by Fruitnet, the publisher of FPJ. The platform is already tried and tested for Fruitnet's series of global events, which include World of Fresh Ideas, Global Berry Congress, Global Tomato Congress, and Fresh Produce India. It features multiple tracks of content, video on demand, advanced networking tools, and interactivity.
Festival of Fresh is an evolution of FPJ Live, the popular annual national conference that brings together several hundred delegates in the Midlands. FPJ is also looking at an in-person social event to accompany Festival of Fresh: it would be the first opportunity to meet after the lifting of coronavirus restrictions, and further details will be announced in due course.
"Festival of Fresh is a wonderful chance for everyone in the business to catch up online or in person," said White. "We want growers, packers, wholesalers, marketers, retailers, and everyone involved in the fruit and vegetable industry to register and take part in this special event."
Sponsorship of Festival of Fresh is available to give businesses a unique opportunity to showcase their products or services to an audience of industry leaders. Contact festivaloffresh@fpj.co.ukor visit www.fpjlive.com for further information.