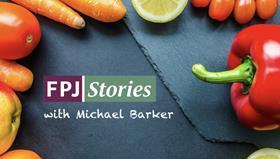 FPJ Stories is the talkshow series in which contributing editor Michael Barker chats in depth to leading industry figures about their life, career, inspirations and hobbies.
Inspired by the hugely popular Life Stories segment at FPJ Live, this video and podcast series gives unique access into the worlds of some of the most charismatic and fascinating figures working in the fresh produce industry today.
In Episode Three, Michael talks to LEAF chief executive Caroline Drummond as the organisation approaches its 30th birthday. She discusses the new 10-year strategy for LEAF, as well as her views on sustainable farming, nutrition and engaging the public in food production.
For the first time, Caroline also speaks publicly about her personal battle with cancer, and how healthy diets can play a key role in recovery from serious illness.
Watch the interview below, orlisten to the podcast via this link.