Vertical farm-produced red + green mix is promising longer shelf life and sustainable production values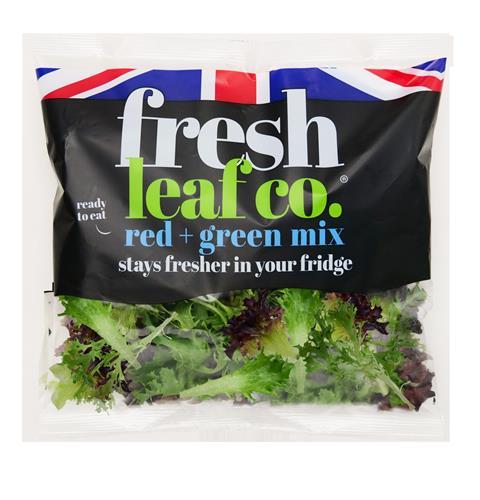 A new salad brand from vertical farming specialists GrowUp Farms has been launched into Iceland.
Fresh Leaf Co.'s red + green mix has launched exclusively into selected Iceland stores this week, priced at £1.
The red + green mix is described as a combination of rich red and crispy green baby lettuce leaves. The naturally longer-lasting leaves "solve the big problem of bagged salad going to waste", the brand said, pointing to research showing that 63 per cent of shoppers say they would buy more bagged salad, and more often, if they knew they would waste less.
With the UK importing two-thirds of the salad consumed each year, and over 90 per cent in winter, Fresh Leaf Co. said its products will help keep salad on the shelf while the UK battles with supply chain issues.
Every leaf is grown and packed in the UK in a vertical farm, using 100 per cent renewable energy.
The company's Lisa Bell said: "The launch of Fresh Leaf Co.'s red + green mix into Iceland shows how innovation and technology can support UK food and farming to build resilience and become more self-sufficient. We created the brand in direct response to the never-ending pressure on shoppers' purse strings. People want to eat healthily and don't want to waste food or money."
Andrew Staniland, group trading director at Iceland, added: "Having Fresh Leaf Co. on our shelves gives Iceland shoppers an affordable salad that's grown year-round in the UK. Shopping on a budget doesn't have to mean compromising on healthy eating or sustainable values.
"Our Doing It Right Plan means we're committed to selling affordable, quality British-grown food, and giving Iceland customers sustainable choices – Fresh Leaf Co. allows us to do both."