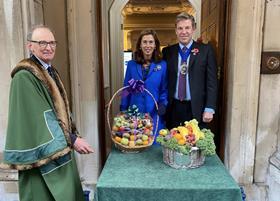 The Worshipful Company of Fruiterers has carried out its longstanding tradition of presenting fruit to the Lord Mayor despite the challenges of Covid restrictions.
Master Fruiterer David Simmons led a small contingent of six Fruiterers including the clerk, beadle and fruit porter, to undertake the Ceremony of Presentation of Fruit to the Lord Mayor in line with Covid-19 guidelines.
Despite the heavy restrictions combined with non-stop rain, the group performed their duties in the time-honoured tradition, with the ceremony taking place outside and under the porch of the entrance to the Mansion House on 29 October.
Lord Mayor William Russell, accompanied by the Lady Mayoress, met and greeted the Fruiterers' deputation.
The presentation of fruit goes back hundreds of years. In days gone by the Lord Mayor exercised his privilege of levying a tax in the form of samples of the fruit brought into the City of London.
The custom worked smoothly enough so long as London remained at a moderate size, but as the city grew so did the volume of fruit. Thus, the burden of the levy became too much to bear; friction arose and the enforcement of the mayoral rights led to disputes and there were many bitter quarrels.
Common sense ultimately prevailed and the Fruiterers' Company undertook to pay an annual tribute of not more than twelve bushels of fruit to the Lord Mayor in return for a surrender of his right to exact a toll on all supplies sent to the market.
These days, the fruit becomes part of the Fruit Gifting Programme, in which the livery company provides regular deliveries of fruit to the hostels and refuges in and around the City of London.
Simmons said: "The Fruiterers Company is extremely pleased that with careful planning and adherence to social distancing, we have been able to uphold this ancient tradition, signifying the enduring importance of the fruit trades and our ongoing support for the Lord Mayor, the livery and charitable giving within the City of London."