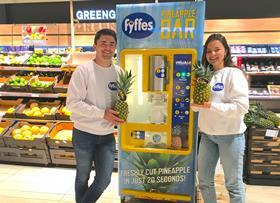 Fyffes' pineapple-slicing machine, the Piñabar, has arrived on the Emerald Isle, going on demonstration at Dunnes Stores across Ireland from now until mid-August.
Shoppers will be able to watch as their pineapple is prepared in front of them, usinga swish of blades to produce ready-to-eat pieces in just 20 seconds.
Understood to be the first machine of its kind in Ireland, the Piñabarwill bein operation in Ennis; Dundalk; Terryland, Galway; Jetland, Limerick; Bishopstown, Cork; Newbridge; Maynooth; and at Dublin's Cornelscourt, Blanchardstown, Stephen's Green, Pavilions Swords and Portmarnock stores.
Describing it as "a high-tech concept that has proven successful in markets overseas", Fyffes Ireland's marketing manager, Emma Hunt-Duffy, said the machine "gives shoppers the opportunity to slice their pineapples on the go and at no added cost beyond the recommended retail price of the pineapple itself".