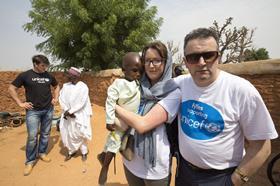 Fyffes is to intensify its support for Unicef's polio vaccinations programme.
The banana giant will introduce two new elements that will provide an opportunity for customers, children and members of the public to become involved in efforts to immunise young children in those countries where the virus still poses a major health risk.
The firm's managing director Gerry Cunningham and sales and marketing manager Emma Crewe recently returned from a four-day, fact-finding mission to Nigeria aimed at gauging the extent of the polio problem in that country and to view the administration of a vaccinations programme being carried out by Unicef, supported by funding from Fyffes. They were joined by Irish and Munster rugby second-row forward and Unicef ambassador, Donncha O'Callaghan.
The goal of the Unicef programme is to immunise a million young children aged five years and under against the deadly virus. The latest tranche of this is being targeted at children living in Nigeria as part of an overall drive to eradicate polio worldwide by 2018.
Cunningham said: 'This is the second major initiative we have undertaken aimed at eradicating disease in sub-Saharan Africa. Over the last three years, we have collaborated with Unicef in funding the purchase of 50,000 mosquito nets supplied to help control the spread of malaria in Mozambique.'
Coming soon as part of this drive will be an in-store element to be carried out in conjunction with Irish retailers Dunnes Stores and SuperValu that will give customers the opportunity to support the work through their purchase of the 'Freddy Fyffes' bagged banana product.
On top of this, there will be a schools-based initiative where primary pupils can contribute to the cause while learning about the impact that the disease is having on young children in affected countries.
Crewe said: 'Support for humanitarian aid programmes is arguably the most satisfying cause for which business can allocate funds.
'At Fyffes, we are proud to support such a reputable organisation as Unicef and to know that the support which the company, its employees and its customers are providing will be put to such praiseworthy use in protecting the health of so many young children who might otherwise be at risk of contracting a disease that would affect their lives irreparably.'