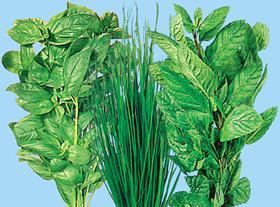 Kitchenware retailer Lakeland recently announced that a third of its customers had changed their buying habits because of the horsemeat crisis.
Some 90 per cent claimed they were less inclined to buy ready meals, and 49 per cent are cooking more from scratch. Matthew Canwell, Lakeland buying director, explains: "In general people are rediscovering the joy of cooking. They have started making their own food again and are now realising it's not as hard as they may have thought."
One of the consequences of this trend is that fresh herbs are gaining in sales as people discover the versatility and flavour they add to meals. VHB, one of the UK's largest fresh herb suppliers, reports it has seen a 5.6 per cent increase in volume sales in the last 52 weeks. "Overall, we believe the market growth is coming as a result of the growing trend for scratch cooking and the increased demand for healthy ingredients," says marketing manager Ann Tenison. "Pricing for fresh herbs is becoming less discount focused, which has also seen an increase in value for the category."
In terms of value sales, the best-selling VHB herbs in the last month were coriander, basil, mint, flat leaf parsley and curly parsley. Tenison adds that June saw sales of mint increase by nearly nine per cent, overtaking flat leaf parsley, which usually sits in third place. The glorious sunshine has helped, with consumers jumping on the cocktail trend and whipping up delicious drinks at home.
Mel Cushen, commercial manager for Lincolnshire Herbs, says it too has seen mint sales soar with the recent Pimms and also new potatoes promotions. "In some weeks it has been up by 37 per cent year on year," she adds. "Far and away our top seller is basil, followed hot on its heels by coriander, then mint and flat leaf parsley. The cut and bunched herb market is going from strength to strength.
"Our cut-herb facility is already handling over 100 tonnes of cut material per year, packing into a variety of formats, including flow wrap, hand-sealed sleeves, punnets and bunched for supplying to retailers, food processors and foodservice."
Both Lincolnshire Herbs and VHB say showing consumers new ways to use the product is key to driving further growth. "Educating the customer is key if we want to drive category growth and penetration," explains Cushen. "We are working closely with our chef to develop some exciting recipes with a firm emphasis on making it simple. What to use, how to prepare for everyday recipes, and not just special occasions."
Tenison says VHB is working with herb expert Jekka McVicar to raise the profile of the product. "[McVicar] continues to play a key role in our marketing activity, helping inspire consumers to cook with fresh herbs and advising on how to take care of pots of living herbs once you get them home from the supermarket," she adds.
"Jekka has provided us with a recipe for using thyme and tips and advice for each herb which is being used for media activity. VHB has a number of new lines in the pipeline for launch in the coming months; with the growing interest in the category we are continuing to look for new varieties of fresh herbs that will inspire shoppers to get creative with their dishes and flavours.
"Our focus is to provide fresh herbs that complement the other flavours in the meal or drink, making it something truly special."