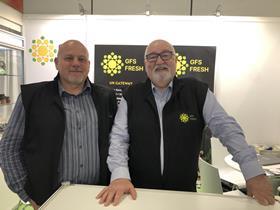 UK supplier GFS Fresh has started importing South African sweet potatoes as an alternative to North Carolina product at the tail end of the US deal.
The company believes the product stands out for its quality in the supply window from late April to November and is looking to increase imports gradually having begun three years ago.
In 2019 GFS Fresh trialled two containers of South African sweet potatoes and now that has been increased to 20-25 containers, for supply to one major UK retailer as well as national foodservice suppliers.
"When South African sweet potatoes come onto the market towards the end of April, the American product is just starting to deteriorate," explained company director Colin Galbraith. "It's not a question of knocking the Americans out, but rather switching source at the right time to maximise product quality. Because the South African product is new and it's cured, it's a great product."
There are currently only a handful of suppliers importing South African sweet potato to the UK, and Galbraith says that for GFS Fresh it's a fairly new and experimental project, but he stressed that he was optimistic due to South African producers' focus on quality.
The sweet potatoes he imports are of an orange-fleshed variety called Orleans, which is licensed by the Louisiana State University breeding programme and is very similar to Covington, the dominant variety in North Carolina. South Africa is generally focused on growing white-fleshed varieties such as Bushbok, however.