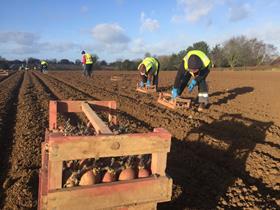 The Home Office yesterday (22 March) confirmed the hourly rate for seasonal horticultural workers recruited under this year's Seasonal Worker Scheme will be £10.10/hour - 6.5 per cent above the National Living Wage.
When the government last December extended its pilot Seasonal Worker Scheme to make 30,000-40,000 six-month visas available for horticulture growers, it warned that the sector would need to improve pay and conditions as part of post-Brexit plans to reduce the reliance on migrant workers.
The Home Office has now confirmed that, from 6 April, visas will only be granted to workers through the Seasonal Worker Scheme if they are paid the minimum £10.10/hour, equivalent to a minimum salary of £26,500/year.
The rules do not cover workers who have already secured a visa ahead of 6 April or those recruited outside of the scheme, clearing up confusion surrounding wage rates for workers employed under the scheme.
As Farmers Weekly reports, guidance provided by the Home Office to labour providers ahead of the NFU Conference last month had indicated that minimum wage requirements could be as high £12.31/hour.
But Defra secretary George Eustice insisted at the time that there had been an error in the guidance – and he reassured delegates that wages would remain at £10.10/hour.
Responding to the confirmation, NFU deputy president Tom Bradshaw said: "There was significant confusion and frustration from growers about the wage requirements for workers recruited under the Seasonal Worker Scheme, and urgent clarity was needed from government. While the guidance has, rightly, been amended, these requirements still represent an unexpected 6.5 per cent increase above the new National Living Wage."
Newly elected NFU horticulture and potatoes board chairman Martin Emmett raised concerns about the lack of notice for growers about these changes and the effect ongoing inflation could have on growers.
He said: "Growers have only been notified of these changes three weeks before they come into force and businesses across the country will be working hard to understand how it can be implemented and how these additional costs can be managed.'