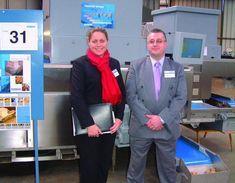 RJ Herbert Engineering hosted its fourth bi-annual Open Day from March 15-17 to exhibit its latest machine concepts available to the fresh produce sector. Held at the company's Cambridgeshire premises, staff and directors escorted visitors around Herbert's various departments, displayed new machines and technologies developed during the past two years, and over 10 different handling machines were demonstrated.
Marketing manager Jo Herbert said: "We invited our customers and the sector to our Open Days to inform them about our new products and ideas. "Among the company's latest machine concepts is the new carrot optical grader machine, which is already in commercial use.
General sales manager Andy Hubble said: "The optical grader was developed with the latest US technology and can sort five tonnes an hour using the electro-sizing technology. The machine is similar to our potato auto-sorter except its length is longer to separate the carrots, and the software used is specifically set up to sort on length, diameter and defects."
Hubble added that a bigger percentage of the company's business is developing and refining old machinery. "We are focusing on new product development for existing industries rather than new products to new markets. The carrot optical grader is an example as it is based on our potato grading technology that has been redesigned."
Other new ideas on show at the Open Days included a robotic system called Robogo Pick and Place for end of line packing, and a vegetable polisher for the fresh pack sector which has been designed and developed by New Zealand company, Wyma Engineering, and Herbert is the sole distributor in the UK.
Hubble said: "We have already sold three in 2004 and expect to sell four to six in 2005. We are now setting up partnerships with innovative companies rather than reinventing something that already exists. This way we can offer a bigger range of machines to our customers and still provide them with the installation and maintenance services."
In 2004, the company reviewed all its business operations to address the areas for improvement in order to achieve better continuity of service. "Our core activity is still making machines for the potato fresh pack market," said Herbert, "but we can't be solely reliant on this business with the changes in the sector. Over the last five years there has been a 30 per cent reduction in our customer base so we need to work closely with them but at the same time spread our business risk."
Also launched at the Open Days were the company's new machine technical leaflets detailing all machine features to improve the information available to customers. Herbert said: "There was a wealth of information locked into many people's heads at Herbert, which needed to be communicated and available to the sector more easily."