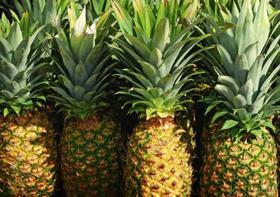 A 745kg stash of cocaine has been found hidden within fresh pineapple from South America after a 10-month investigation by Spanish and Portuguese police.
Nine people have been arrested and police also dismantled a laboratory where the drug was cut.
The drug was packed in cylinders, covered in yellow wax to look like fruit, then covered by previously emptied out pineapple skins, according to the Spanish Interior Ministry.
It is believed that the disguised cocaine shipment travelled from Panama to the port of Lisbon by sea, RTE reported.
Portuguese investigators told Global News in a statement that "this organised international group had repeatedly brought large quantities of cocaine to the European continent".