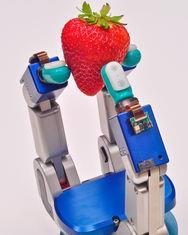 The world depicted by sci-fi film I, Robot may not be that out of reach for the UK fruit industry, with humanoid robots set to solve ongoing labour problems that plague soft-fruit fields and top-fruit orchards.
It was revealed at the Automation Conference at East Malling Research, Kent, that "finger touch harvesting" with sensory fingerprints is on the cards and delegates called for fruit growers to start making production "robot ready".
Insisting that humanoid robots are "not just the stuff of science fiction", US company SynTouch's co-founder Dr Nick Wettels outlined this radical harvesting technology by referencing the 2004 blockbuster with a short clip from the film in his presentation.
He said: "Robots in human form are not so far away. Our BioTac biomimetic tactile sensor array model has fingerprints and sensory measurement for temperature, force and texture. When will we need tactile sensing? With strawberries we do and we can provide grip adjustments on what is essentially a hand with three thumbs.
"Modern robots have been restricted to simple, constrictive environments, not conducive to harvesting, but the technology is there for fruit harvesting."
Delegates reacted well to the robotics concept with a supplier to the major multiples showing interest, but the idea hit a wall when possible forms of public reaction to robotics were questioned. The conclusion was drawn that consumer education was essential to avoid media misinterpretation.
Wettels said that SynTouch is seeking partners in fruit harvesting, vegetable packaging and ripeness evaluation.