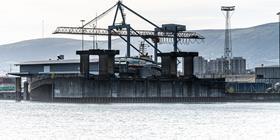 Plans for the construction of permanent border posts in Northern Ireland have been delayed by two years, a government committee has been told.
The permanent facilities at Northern Irish ports, for conducting beefed up post-Brexit border checks, are now not expected to be built before 2023, theBBCreported.
Currently checks are being conducted from temporary buildings in the country's various ports.
Executive agreement will also be needed before the border posts are approved, which could complicate matters.
The DUP's agricultural minister Edwin Poots has been resisting calls from Whitehall to get on with the permanent buildings, theBBCreported, calling for work on the border posts to be halted.
Earlier this year, Stormont's agricultural and environmental committee said the facilities should be in place by June 2021, but the plans have been pushed back due to a supposed lack of clarity on the volume of checks that will eventually be needed.