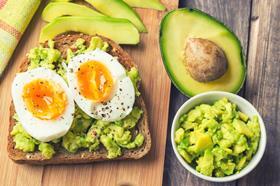 Ocado Retail, the world's largest dedicated online grocery retailer and the fastest-growing grocer in the UK, today (24 January) reveals the latest online grocery shopping trends as consumers introduce New Year's resolutions – but struggle to stick with them.

Demand for healthy lifestyle and wellbeing products increased post-Christmas, as consumers looked to establish better habits, Ocado says.
Ripe and ready for the new year, consumer demand for avocados saw one of the biggest increases on New Year's day, with demand up 301 per cent compared to 1st December. Superfood sales also rose markedly, increasing by 91 per cent compared to December. Individual products such as chia seeds grew by 101 per cent, whilst protein powder sales soared by 44 per cent.

Sales of CBD-infused products also increased by 61 per cent compared to last month, as Brits looked to find balance this January. In Ocado.com's Wellbeing & Mindfulness aisle, ginger & tumeric shots proved popular.

However, it took just ten days before healthy habits began to lapse, with searches for cake and desserts rising by 34 per cent and 43 per cent respectively - and, clearly Brits are already planning for future festivities, with searches for Easter eggs soaring 119 per cent.

Laura Harricks, chief customer officer at Ocado Retail says: "Being the UK's only pure play online grocery retailer means that we have real-time insight into what our customers are looking for. After being stuck in lockdowns over the last two years, many are looking to start the year in a healthier way, with the nation putting down their drinks and focusing on wellbeing. With a larger range than any other supermarket, we're looking forward to supporting the nation with their new years' resolutions!"

Ocado.com (operated by Ocado Retail) is the world's largest dedicated online supermarket, and is a joint venture between Marks & Spencer Group and Ocado Group.

With over 830,000 active customers, it is the UK's fastest-growing supermarket.