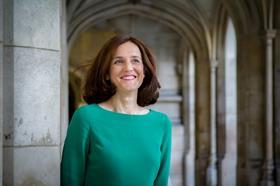 Theresa Villiers has been sacked as Defra secretary of state after just six months in the role.
Villiers said she was "sad to no longer be part of the team" following her dismissal, which comes as part of Boris Johnson's cabinet reshuffle.
Other high-profile departures include Sajid Javid as Chancellor, Andrea Leadsom, Esther McVey and Attorney General Geoffrey Cox.
Villiers had already made her mark on Defra by re-introducing the Agriculture Bill and the Environment Bill in January, with the former described by NFU president Minette Batters as "one of the most significant pieces of legislation for farmers in England for over 70 years".
Following her dismissal Villiers wrote on Facebook: "What the Prime Minister giveth, the Prime Minister taketh away: just over six months ago, I was delighted to be invited by the Prime Minister to return to government after three years on the backbenches. This morning he told me that I need to make way for someone new.
"I am deeply grateful for having been given the opportunity to serve twice at the highest level of government, first as Northern Ireland Secretary and then as Secretary of State for the Environment, Food and Rural Affairs. I tackled both roles with passion, commitment and huge amounts of hard work".
The new agriculture bill has proved popular, with its inclusion of soil health, a commitment to review national food security and further detail on post-CAP funding.
But Defra faces a huge task in winning over the trust of British agriculture, as the majority of farmers fear British standards could be undercut in future trade negotiations with other large countries.
At the Oxford Farming Conference this year, when a several hundred-strong audience were asked if they trusted the government in trade negotiations, no-one raised their hand.
In her parting comments however, Villiers said she remained "determined" to prevent UK farmers being thrown under the bus.
"While my time at Defra was short, I am proud that under my leadership, we published the most important Environment Bill for decades, setting out a world leading framework to protect nature, improve air quality and tackle plastics pollution; we published an Agriculture Bill with environmental goals at its heart.
"I have spoken out strongly on the importance of ensuring our trade policy does not compromise our high standards of food safety, animal welfare or environmental protection. I remain determined to ensure that our farmers are not undercut by food imports produced to lower welfare standards than ours here in the UK."