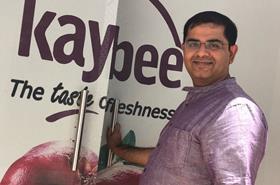 Table grapes have led India's export effort in the last two decades, but it's a wider range of high-value items that will see the biggest growth in future.
That's clear to see on a visit to a purpose-built vegetable farming and packhouse operation outside Pune, India's fastest-growing city of four million people three hours east of Mumbai.
Kay Bee Exports is growing and packing significant quantities of baby corn and okra to supply retail customers in the UK and Europe.
'It's becoming a big business for us,' explains Kaushal Khakhar, the second generation to run the Mumbai-based family-owned business which now employs more than 100 people at its three sites in Maharashtra and the neighbouring state of Gujarat.
Kay Bee says it is winning new business by focusing on product quality and traceability, two issues which have let down Indian growers and exporters in the past.
'It's been a steep learning curve for us,' says Khakhar, 'but we've managed to improve our export sales by ensuring we don't compromise on these two key areas.'
Part of this focus is for Kay Bee to invest significant sums in research and development, the first result of which is a newbio-pesticide product developed on ayurvedic principles used in India for thousands of years.
It has had some startling results in the field, with yields up strongly, and is helping Kay Bee to slash its input costs. They're now looking at a commercial launch for their patented product later this year.