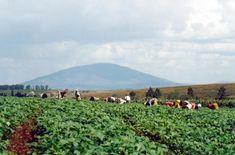 The HDC is managed by agri-business firm Fintrac and reports that it has just started a pilot project to take500 outgrowers through sensitisation, training and implementation to full EurepGAP certification. The growers have been identified by East African Growers Ltd, which is partnering HDC in the initiative. "Nobody has ever estimated the true cost of brining the more than 50,000 out-growers in Kenya up to EurepgAP standards," said an HDC spokesperson. "We shall be monitoring the costs closely on our test group." HDC has also met with EurepGAP secretariat to discuss the issue as the European organisation is keen to find out more about the Kenyan situation with regard to out-growers.
in its latest newsletter estimates that more than 500 new growers have started production of African birds-eye chilli for export. The impetus has come thanks to seed provision and technical assistance from HDC. Harvesting of the first crops should begin in September.
The HDC has also carried out a baseline survey of small-holder flower production. Consultant Martin Mulandi, formerly ceo of the Kenya Flower Council is carrying out the work. "There are many more growers than we previously thought obtaining an income from flowers," said Mulandi, "particularly in coffee and tea areas. And the interest is really high from both growers and exporters."
Growers in the Eldoret area are propagating hydrangeas as part of an HDC project for a sample order of 10,000 flowers.