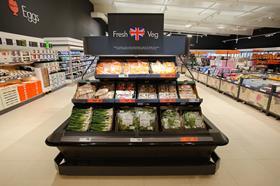 Discount retailer Lidl GB has overtaken the Co-op to become the UK's sixth largest supermarket for the first time, according to Kantar grocery data.
Based on grocery figures released by Kantar for the 52 weeks to 20 February 2022, Lidl sales surpassed the Co-op beating it to sixth place behind Aldi, Morrisons, Asda, Sainsbury's and Tesco.

Commenting on the result, Ryan McDonnell, Lidl GB CEO, said: "We are extremely proud that more customers are choosing to shop at Lidl. But it's also not a surprise, because it has always been our firm belief that no one should have to pay a premium for good food. This belief is at the core of everything we do, whether that's keeping prices low or making our offer as accessible as possible through the opening of new stores.
'In February alone we opened 13 new stores, and our expansion plans continue at pace. As households navigate the increasing cost of living, it is our absolute promise that we will continue to offer them the best value in the market."

When Lidl first came to Britain in 1994, it focused on dry goods and household products and by 2003 it was welcoming 1 million customers through its doors annually.
Since then, its range and market share has consistently grown. To date, Lidl GB now has over 900 stores and 13 distribution centres in England, Scotland and Wales, and employs over 27,000 employees.
The retailer plans to open a further 1,100 UK stores by 2025.
'The business has consistently championed British suppliers, and in 2019 we confirmed a £15 billion investment into British suppliers over five years,' McDonnell said.
'As part of our commitment to reducing food waste we have always chosen not to print best before dates on the majority of our fruit and veg. In 2018 we launched our £1.50 Too Good to Waste Boxes which are filled with approximately 5kg of fruit and vegetables that are still good to use but would have otherwise been thrown away,' he added.
'We've continued to invest in our people and over the past five years have invested over £50 million into hourly wage increases. This month all of our hourly-paid colleagues will receive a pay rise, now earning a minimum of £10.10 (outside M25) or £11.35 (inside M25). This will benefit 80 per cent of our workforce and is more than the National Living Wage and the current recommendation for the real living wage.
'Sustainability is part of our DNA as a discounter and in February 2022 we were crowned Which?'s Greenest Supermarket, joint with Waitrose. To date we have removed over one billion pieces of plastic as part of our strategy to eliminate plastic waste and aim to be carbon neutral by 2022.'
In January, Lidl GB moved into a new Head Office in Tolworth, a purpose-built state-of-the-art 250,000 square ft building which accommodates its 800 plus head office colleagues.