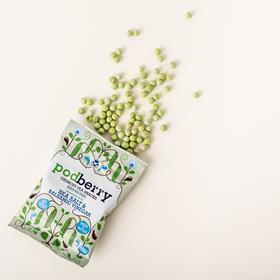 Freeze-dried pea snack Podberry has secured two new listings in Lidl and Co-op in Scotland.
Lidl will stock both Podberry's Sweet Chilli and Sea Salt & Balsamic Vinegar variants at a special price of 59p per pack. It launches in 104 stores from 3 September for an initial two-week period, located in the Special Buy Scottish Larder Section for Scottish Food & Drink Fortnight.
The same two varieties will also launch in 30 Co-op stores across Scotland from 2 November. The brand is currently stocked in Morrisons, independents and online via its own store.
The full range, which features four different flavours, is described as completely vegan, high in protein, low in fat, gluten free and one of your 5 A Day. The peas are frozen in less than two and a half hours from harvest and then freeze dried, before being finished with a specially created flavour blend, free from artificial colours, flavours and preservatives.
Podberry commercial manager Gemma Rae said: "We're really excited to see Podberry securing listings in more locations across Scotland. We hope an increased shelf presence will allow more people to discover the brand and purchase Podberry more conveniently as part of their weekly shop.
"It has obviously been a tough year for producers, but as things begin to return to normal, a purchase of Podberry is not only a unique, healthy and delicious snack for people to enjoy but a way to support a Scottish business too"