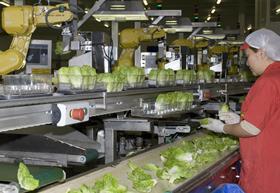 Spanish vegetable producer El Dulze has installed 68 robots at its packing plant in Murcia in a move that has cut its labour needs by 80 per cent.
The LR Mate 200iB robots, developed by Fanuc Robotics, use a vision system to detect density of lettuces on the packing line, and move produce through the root-cutting process.
With a capacity of 550,000 lettuces per day, the robots have reduced the workforce at El Dulze from 500 to 100. The new system has also reduced the number of rejections from 20 to five per cent due to increased hygiene and less human contact.
"This business has traditionally been labour intensive but today labour is increasingly unavailable," said managing director, José Sánchez.
"This region has a major shortage of labour – many workers in the industry are immigrants but this hasn't solved our problem. As minimal skill is needed we have a real problem with labour and turnover of these workers is high – they just seem to come and go.
"Reducing the amount of people has made everything more hygienic and damage to the lettuces caused by handling is now minimal."
Sánchez said visiting retailers are now exposed to a high level of investment throughout the business, and said the commitment to robotics has had a "major impact on gaining new business".
El Dulze now aims to increase overseas sales thanks to the investment taking it to a "higher level'. "The need to invest wasn't a difficult decision to make. Of course there are many reasons why this investment has been made but generally they all focus around delivering a consistently high quality product and keeping El Dulze competitive," he added.