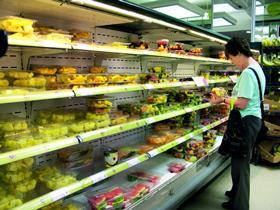 M&S and BP have extended their convenience agreement until 2030 as they build on their 16-year collaboration.
The two sides first teamed up in 2005 to introduce M&S Food stores at BP retail sites in Great Britain. M&S Food is now available at almost 300 BP-operated sites across the country.
"We're proud to continue to build on nearly two decades of our great partnership with M&S, one of the UK's leading food retailers," said Alex Jensen, BP's senior vice president for mobility and convenience, Europe and Southern Africa.
"Of course, our sites provide advanced fuels, but our customers also want high-quality healthy food options, for now and for later. And they also want increasingly convenient ways to buy that fit in with their busy lifestyles. BP's partnership with M&S Food has led the way in the UK and we aim to continue to innovate and grow to meet our customers' needs."
M&S chief operating officer and M&S Food managing director Stuart Machin added: "This extended commitment will enable us to work together to invest in the look and feel of the stores, building on the M&S renewal programme, and our supply chain to maximise availability and reduce food waste."
Convenience sector growth
During lockdown, BP reported that customers bought 20 per cent more at its forecourt stores.
Based on Euromonitor analysis, in 45 of the leading economies of the world convenience is expected to nearly double by 2030, growing at more than 5 per cent a year.
BP stores now stock up to 1,300 different M&S Food products.