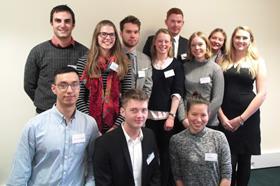 A new webinar is aiming to help students launch a rewarding career in fresh produce.
Beanstalk.Global and Management Development Services (MDS) are staging the webinar on Tuesday 16 June at 2pm to allow current students to find out how MDS can be instrumental to their future career. Similarly, it gives fresh food companies the opportunity to see the difference MDS can make to them as a business.
MDS runs a well-established graduate scheme for future leaders of the food and fresh produce industry. It is a partnership of companies that aim to equip young people with the experience, training and mindset so they have the confidence and ability to rapidly become senior business leaders within the industry.
The free-to-view one-hour webinar features a series of high profile participants, including Andrew Staniland, trading director at Iceland Foods;Rebecca Charnley, commercial manager at Barfoots;Will Holmes, head of sales and marketing at Syngenta;Jonathan Tremayne, chief executive at Global Produce Food Group; MDS chair and Groceries Code Adjudicator Christine Tacon; and many more.
The webinar will be hosted byBeanstalk.Global editor in chief Max MacGillivray.
To register for the Zoom webinar, click here.