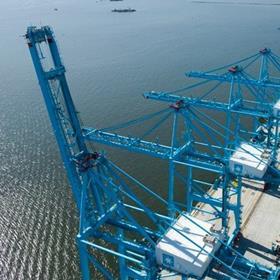 Costa Rica's new US$1 billion Moín port is on course to open in January 2019, officials have confirmed.
Speaking at the International Banana Congress in Miami, Kenneth Waugh, director general at APM Terminals, updated delegates on the progress of the groundbreaking project, which he said would propel Costa Rica to become one of the leading players in Latin American port logistics.
The first phase of the project has seen the construction of an artificial island - the first of its kind in Latin America - as well as a new road network and racks. The port will ultimately feature six cranes and the capability to handle 16,000 TEU New Panamax ships. Currently Costa Rica cannot handle larger than the older Panamax ships, which have a maximum capacity of 5,000 TEU.
The first phase of the build, which will be able to take ships up to 14,500 TEU in size, will be operational by January 2019, Waugh said, with the site featuring technology such as computerised access and control, scanners and low-carbon electrical equipment.
"We have been limited in logistics [in Costa Rica]," he explained. "For a long time the world has improved and we have been left behind. The Moín project is building the most efficient terminal in Latin America and it's a symbol of progress.
"Currently we are using feeder ships to connect to those big ships, but no shipping line is requesting smaller ships - there is a trend towards bigger, more efficient new ships and we want to be able to connect to those in one step. We will be able to take the biggest ships if it's economically feasible at the end of phase 2. Costa Rica will be able to increase its competitiveness as a result.'