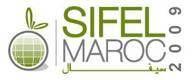 The Moroccan international fruit and vegetable trade exhibition that showcases the country's wide ranging land-based industry, is set to take place this December.
This year's Sifel Maroc will take place in Agadir from December 10-13 displaying the best in Morocco's agriculture, horticulture and food processing industries.
The latest innovations in greenhouses and plant house cultivation technologies; water recycling; machinery; equipment and technical supplies; biological and chemical plant protection; crop management and research will be on display at the exhibition.