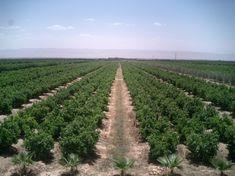 The Moroccan clementine season has just kicked off, marking the start of the Christmas citrus supply period from the north-African country. Supplying 10 per cent of its renowned citrus crop to the UK, it has a small but stable foothold in the market, as well as supplying a range of vegetables, including tomatoes, green beans, melons and strawberries.
Early reports suggest this season's clementine crop is of reasonable quality, however, there have been some problems with colour; higher temperatures and a lack of reasonable rainfall over the last few weeks have failed to help the fruit reach its usual vibrant orange appearance. "There's been quite a lot of de-greening going on in Morocco," Stephane Constantin, an importer with Mack International, says. "Normally the colder weather colours it up on the tree - if temperatures remain hot then fruits remain green."
But, colour aside, it seems the eating quality is up-to-scratch - for the UK market at least. Despite the Christmas period often being dominated by our love affair with the satsuma, Constantin explains that orders for the easy peelers are up on previous years: "Clementine are normally hard to start off with in December, but this year we have had good demand," he says - and this popularity is reflected in figures. The annual report from Morocco's export control centre, the EACCE shows that 25,000t more of the festive easy-peeler was exported over the last year - reaching an overall total of nearly 170,000t.
The figures are extremely encouraging for the industry, especially in the light of its problems with severe frosts earlier this year, which hit late citrus. "It remained a good season until the beginning of February. The north of Morocco was hit by a cold spell which affected the late fruits," Kacem Bennani-Smires, from leading Moroccan exporter, Delassus, explains. "The market was affected by quantities of bad quality fruit driving customer interest down."
Constantin concurs: "Morocco was hit, as were most Mediterranean regions, and this affected a lot of the later varieties of citrus, especially in regions like Beni Mellal and Marrakech - those areas were hit very hard. It made exports and marketing of citrus products hard for everyone," he reveals. But the full extent of the damage could be yet to be seen, he points out: "It's possible that the freeze will effect the overall tonnage and quality of citrus this year - there is already a huge reduction in early varieties. With later varieties, I'm not sure that effect it will have on the UK market, but I can't imagine it won't affect the quality."
But exporters can find comfort in the facts - the EACCE records show citrus volumes this year reached their highest (over 490,000t) for at least five years, with easy-peelers this year taking the lion's share at around a quarter of a million. Of this, Nour proved its worth, almost doubling it's total volume exported.
This success is echoed over the majority of the country's fruit and vegetable exports with non-citrus fruits and vegetables both boasting a significant increase in tonnage.
Strawberry supplies are looking particularly healthy, with 3,000t more exported in 04/05 compared with the previous year. While Spain is normally renowned in the UK for its counter-season strawberries, some think Morocco can offer a superior product, and it is this that could secure it an increasing market share in countries like the UK.
Redbridge Worldfresh, the procurement division of Redbridge Holdings, is reporting a significant increase in UK demand for Moroccan strawberries, and reveals that thanks to its extensive development on crop manipulation, the company has received its earliest ever Moroccan strawberries this season. "The general popularity of strawberries as a healthy indulgent product continues to drive impressive growth in the category," says sales director Ian Waller. "We are very proud to have beenworking closely with the production of strawberries in Morocco and we see the country as an integral part of our 52 week offer on soft fruit. It continues to be one of the shining stars as far as year-on-year growth is concerned," he says.
The competition between Spain and Morocco is undeniable. Dealing in many of the same fruit and vegetable lines, Spain is indisputably Morocco's main competitor for the European market. But many feel that Morocco is gaining a competitive edge and this is certainly the case with strawberries. "With a perfected cold-chain [strawberries] can go by road almost everywhere that Spanish can go. Weather is better, drier and warmer than in south Spain - and the price is competitive," says one grower.
This similarity between the two countries has often afforded Morocco, perhaps unfairly, the label of 'back-up' to Spain when it suffers problems with supply, but this is something that all who are currently dealing in Moroccan produce vehemently deny, including Waller: "They are most definitely not just a back-up," he says. "We see Morocco as a very clear compliment to Spain not a competitor - especially as we have found the formula for earlier production."
Bennani-Smires supports this whole-heartedly and says that citrus, in particular, is reinventing itself: "Although in direct competition with Spain, it is more competitive, and provides UK retailers with a good, professional alternative." However, he concedes more communication is needed: "Although there is some stability, it is not enough, thus driving away interest from the Moroccan exporters. With more stability, the retailers and especially the importers could develop a better relationship with us.
"The Moroccan citrus industry, like other agricultural exports, is making a comeback both in terms of variety and professionalism," he says.
And there seems to be evidence to support this stance. Producers and exporters are putting a lot of stock into creating an image of respectability and quality for the country's produce, and this is reflected by the industry's relatively recent recognition of the need to participate in certification programmes such as EurepGAP and BRC which guarantee things like crop quality, worker safety and environmental awareness. And ultimately, Moroccan produce is known for being high quality - especially in two of its main markets, Russia and Canada, where its fruit and vegetables fetch high prices. "Exporters have recently loaded about six boats to Canada and five or six to Russia, which are very good markets for them and are where Moroccan products command a premium," Constantin says.
But despite the successful year and the good work being done to transform the nature of its agricultural sector, the country is inevitably still plagued by problems that are mostly out of its control. As the winter frost proved, the country suffers with erratic weather extremes that threaten to wreak havoc with its fresh produce supply each year. Drought is also a huge problem for the sector, with water in short supply. The little available is under strain from urban and industrial expansion and work towards national water conservation still has further to go.
The problem of drought is further exacerbated by the fact that many, low-value crops are still receiving equal water supplies, irrespective of overall returns, when it could have been more lucratively allocated to a premium crop like citrus.
But new crop opportunities could mark a real turning point for the industry. Over the last few years, Moroccan growers have been re-grafting their orchards with new varieties as well as rejuvenating older trees, which, despite adding to the country's exports problems, has meant preparation for a swathe of new citrus.
One grower also cited early season stone fruit, early grapes, raspberries, blackberries and blueberries as new markets that were being explored. Constantin explains: "Clementine Nour has continuing success here in the UK as do newer varieties such as Afourer. Both are seedless, easy to peel, and taste extremely good," he says. "Les Domaines markets [Afourer] and it's a hybrid it developed itself. It has no seeds, a good shelf life, and a good colour - and it's helping to fill in the gap for other varieties that we are getting,"
It seems that Morocco could be on the brink of change. Export figures are the healthiest they have been for a relatively long time, and it seems the industry is striving harder to look at the bigger agricultural picture. Growers are looking to get on board the certification and traceability boat, infrastructure is receiving a much-needed boost, and investment into improved production techniques, like those deployed by RWF, could be securing Morocco markets in places like the UK.
There is an overall impression that the industry is united in the opinion that Moroccan produce is regaining its reputation for quality, in spite of the climate struggles it faces, and this is something that many seem keen to promote over the coming years. Many expect this to re-establish the country as a premium growing destination.