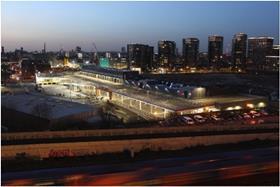 New Covent Garden Flower Market will reopen following the government's easing up of coronavirus lockdown measures.
The historic market's flower traders were forced to close their doors after prime minister Boris Johnson implemented an unprecedented nationwide lockdown on March 23rd to prevent the spread of coronavirus.
The market announced however that it will be reopening on Monday June 15th, in line with the government's new schedule for opening up parts of the economy, such as non-essential retail.
This means that for the first time in over two months the public will be allowed to enter and shop in the New Covent Garden Flower Market premises, in Vauxhall, London.
New social distancing regulations will be put in place however. According to the market, there will be a maximum of 50 customers permitted inside at any one time.
"This is in line with government advice and will be reviewed in response to any updated Government guidance. Unfortunately, at busy times you may have to queue. However, we will have additional security to manage this," the market stated.
"We ask that as customers you do not visit in groups and are respectful with your browsing time and considerate to others who may be waiting to enter."
There will also be hand sanitising stations at all entry and exit points, as well as two metre social distancing floor markings.
The reopening comes just in time for British Flowers Week, taking place between Monday 15 and Sunday 21 June.
This year the theme is 'Healing', with the market asking members of the public to celebrate the healing power of British flowers and foliage by placing British Flowers (bouquets, pictures, pressed flowers, wreaths) in their windows where they can be seen by passers-by.