Ports across UK and beyond are set to upgrade to cloud-based 'CNS PCS'
Digital trade solutions business and DP World company CNS (Community Network Services) is rolling out its new CNS Port Community System (PCS) to "future-proof port technology in the UK and beyond".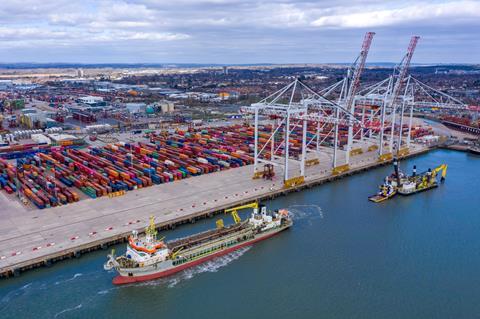 The upgrade will see 'Compass' – which has supported many of the UK's largest maritime ports since 2010 – transition to the cloud-based and HMRC-compliant CNS PCS.
The modern, API-ready platform is based on DP World's global CARGOES platform, runs on multiple devices and will enable businesses to respond to regulatory changes with greater ease and agility, according to the company.
CNS PCS is a solution for managing cargo moving through port and border environments. It is fully HMRC-compliant, and along with providing real-time visibility into the status of shipments and consignments, it also automates manual processes to streamline operations and improve efficiency.
Additionally, it will feature an Application Programming Interface (API), enabling its users – importers, exporters, freight forwarders, shipping lines, transport companies and customs brokers, among others – to integrate the platform into their existing systems.
CNS explains that in over 13 years of operation, 'Compass' has orchestrated trade logistics for UK maritime ports, facilitating communication, cargo visibility and trade efficiency for shipping lines, freight forwarders, terminal operators, customs brokers and more.
The new system's phased rollout has commenced with a pilot launch in the Belfast community during August 2023, before being implemented across other CNS sites in the UK. The transition for all 'Compass' users in the UK is expected to be complete in 2025, including deployments across London Gateway and the Port of Southampton.
Matthew Bradley, managing director at CNS, said: "'Compass' has been an industry-standard solution since 2010, and has been a go-to for those in the ports and logistics industry. The idea behind its transition to CNS PCS is to take everything that our customers love about 'Compass', and refine it so that it is ready to meet the challenges of tomorrow.
"The UK government has confirmed that Port Community Systems remain a key element of the data and systems landscape at the UK border. CNS PCS reflects CNS's extensive investment in digital platforms to meet the changing needs of the market.
"We've received great feedback from our customers in testing so far, and we are confident that CNS PCS will enable our business and government stakeholders to share data and collaborate more effectively and efficiently. In turn, this will deliver greater security, confidence, and resilience while supporting new modes and operations. It is, truly, a platform for the port industry's future in an ever increasingly digital world."