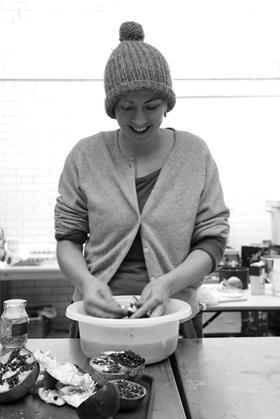 With the energy and passion of someone truly in love with their profession, Georgina Fuggle is a fantastic champion for creative cooking.
The Leith's School-trained chef has already produced her first successful cookbook based around the idea of easy but tasty meal solutions, published by Kyle Books and called Take One Pot. Now she is exploring the world of vegetarian cooking and is keen to work with the fresh produce industry to help inspire shoppers to put more vegetables in their baskets.
"Vegetarian recipes are fast becoming familiar territory," she says. "Meat is often an expensive and added luxury to meals. Gone are the days of 'stuffed pepper' and 'nut roast'; home cooks are becoming more adventurous with vegetables.
"This should be encouraged with an ever-greater range, stretching seasons and making good-quality fruit and vegetables easily, and readily available."
Although the number of British people following a solely vegetarian diet is low – The Vegetarian Society estimates it is around two per cent – that figure is set to grow if recent trends continue. A poll in February this year by ComRes, a market research agency, showed that seven per cent of respondents had stopped eating meat altogether as a result of the horsemeat scandal.
Another survey by Consumer Intelligence, a research firm, found that six per cent knew someone who had become vegetarian in reaction to the reports.
This is the year to grab the opportunity to fly the flag for fruit and veg, but Fuggle sees this as part of a wider discussion. Fuggle, who organises pop-up restaurants with her friend and fellow cook and food writer Alice Hart, says that often people have preconceptions of the time involved with home cooking, and more needs to be done to show the benefits people reap from having more control over their food.
"As a chef you are responsible for exactly what's in your saucepans. You can be cautious with the amount of olive oil or choose to steam ingredients rather than deep fry them," she explains.
"The great British public needs to be educated about the ease, speed and benefits of cooking fresh, healthy food, rather than reaching for tempting 'pre-made' packets. Supermarket- backed campaigns, demonstrations, food festivals and local classes should all be encouraged. It will continue to take time, money and huge amounts of energy, but if our health is at stake, healthy eating is a priority."
Fuggle – who has had a diverse foodie career starting off with chocolatiers Green & Blacks before moving to Sainsbury's Magazine, where she was a senior food writer, to training as a food stylist and chef – says she is currently discovering more varieties of vegetables tocook with.
"Kohlrabi is a vegetable that I'm cooking with increasing regularity," she says.
"Think miniature cabbage with spinach leaves growing from its body. Despite its slightly odd appearance it can be delicious if sautéed in a little butter, sliced finely and added to a gratin or even hollowed and stuffed. Its fresh, crunchy, earthiness taste feels inherently good for you and I think we shall see a little more of it in the coming years."
With such enthusiasm for spreading the word that vegetables need not mean tasteless and boring, hopefully Fuggle will convert many to the cause.