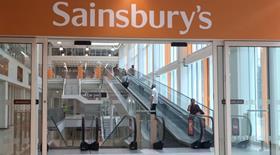 A triple-digit rise in online grocery sales has helped Sainbury's to a strong performance in the third quarter.
The supermarket reported like-for-like Christmas sales up 9.3 per cent, with third-quarter like-for-like sales rising 8.6 per cent as consumers ate out less during Covid lockdowns.
Online grocery sales shot up 128 per cent over the period, with Sainsbury's reporting that it delivered 1.1 million orders in the 10 days before Christmas, which represents a doubling of the figure a year earlier. Online now accounts for 18 per cent of the group's grocery sales.
The retailer said that after forgoeing business rates relief of £410m, it now expects to report underlying pre-tax profits of at least £330m in the financial year to March 2021, down from £586m the year before. Despite the increase in sales, it put the projected decline down to the considerable costs associated with adapting to pandemic life.
'We made a strong start to delivering our Food First plan and we are also clear on the opportunities to further improve our offer as we look ahead for 2021,' said chief executive Simon Roberts. 'At Christmas we focused on offering our customers great prices, great quality and great service and I feel really proud that Sainsbury's customer satisfaction scores were the highest ever in the key Christmas week. We have started the new year with a strong value offer, with Price Lock currently on over 2,500 everyday products.'