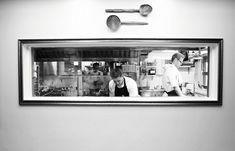 or a Londoner, arriving in Hethe, near Bicester, is a bit like finding oneself suddenly transported to Pleasantville. It's green, clean and almost too perfect. Smiley locals? Check. Lack of litter? Check. Thatched cottages? You bet.
The village recently hosted British Food Fortnight, a festival featuring local produce and a celebration of wholesomeness, held in a barn surrounded by green fields and grazing sheep. Vegetable and herb growers, bread and cheese makers, soft-fruit producers and even a pig farmer were there marketing their products, invited by Fresh Direct, the fresh produce giant keen to maintain its 'local' image.
"We are a big little business," explains managing director David Burns. "The question we faced was 'how do you redress a business that has been trading for 30, 40 years without losing its identity?' At one stage we even considered a name change, but were persuaded by a marketing agency not to go down that route."
Instead, the brightly coloured and instantly recognisable graphics that are now synonymous with Fresh Direct and feature on its lorries gave the business the desired image overhaul.
Innovation is clearly the cornerstone of the company's philosophy, and developing new business ventures an important part of its growth strategy. Because, however much Burns or the Harris brothers insist the company has its roots firmly planted in Oxfordshire soil (they even launched a subsidiary called Roots of Oxford), the truth is Fresh Direct is huge. Operating out of seven locations in the UK and with a turnover set to reach £160 million, it supplies most well-known businesses across the high street, hotel, travel, leisure and gourmet sectors. The independent pub sector, with companies such as J.D. Wetherspoon and Whitbread, is also a big source of revenue, but Burns believes that beyond the big chains there is a chance to do more. "The independent pub sector is a bit disappointing, so if you do something slightly better, you're winning," he says.
It was this thinking that led to the acquisition of the run-down local pub, re-branded The Muddy Duck and transformed into a cosy pub/restaurant with beer garden and terrace. "When we stumbled upon the opportunity to rescue the local village pub we thought we'd put our money where our mouth was," explains Burns.
The Muddy Duck mantra is "uncompromised food without the hand-glazed melange of jus-worded fuss", and seasonality is key. "Gordon Ramsay says 'why have we got this obsession with sticking parsnips on the plate when they're out of season?' This is absolutely the right approach."
It follows then that all the meat on the menus is British and free-range, and the fish 'supplied with strict sustainability policies for both wild and farmed stock'. Some, but not all, of the fresh produce comes from a nearby allotment.
Having only opened in May, it's still early days, but Burns is hopeful the venture will prove successful. "My customers aren't going to take me seriously if I can't even get it right in my own pub." -