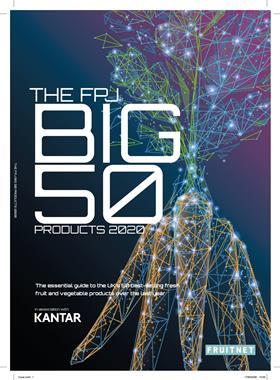 Fresh Produce Journal is proud to unveil this year's FPJ Big 50 Products issue, giving readers comprehensive insight into today's fresh produce market.
Compiling core data from 50 retail lines of fresh fruit and veg, alongside expert insight, FPJ Big 50 Products charts the big trends in the fresh produce industry.
In an easy-to-read table format, this issue shows how different categories have performed in the past 52 weeks based on value and volume figures provided by Kantar, from booming berries to up-and-coming exotics.
In a year that has seen the coronavirus crisis spread across the globe, as well as extreme weather conditions and political upheaval, the impact on fresh produce has been varied and widespread.
But putting aside the ever-present challenges of a global industry, we have chosen the ineluctable rise of online sales as this year's theme.
FPJ editor Fred Searle writes: "The past three months have been nothing if not unprecedented. As well as having a devastating effect on the nation's physical, mental and economic health, the coronavirus pandemic has had a major impact on people's shopping behaviour, heralding dramatic changes that few could have foreseen in 'normal times'.
"Perhaps the biggest shift we've seen has been a boom in online retail, as referenced on our digitally-inspired front cover. Having plateaued in recent years, online sales have skyrocketed during lockdown, rising 75 per cent across grocery retail as a whole."
With much more analysis inside, the FPJ Big 50 Products can be easily purchased from the FPJ App in digital format, or a print version ordered for £25. Contact us on 020 7501 0300