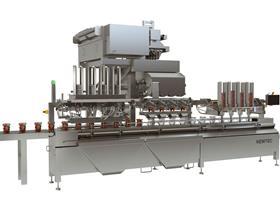 Danish tech company Newtec says its new High Speed Container Filler can generate greater packing speeds for the same amount of energy.
Newtec's new product comes following client requests for increased speed from their packaging machines, as the fresh produce industry strives to improve its margins.
The machine can pack a diverse range of produce, from nuts to more fragile foods like tomatoes and blueberries.
Newtec mechanical engineer Mathias Theil Eilertsen, who worked on the machine's development, said it was designed primarily with speed in mind.
"It's highly flexible and it offers high-capacity and high-speed," he said. "That's the main advantage of this machine. The high flexibility comes from the concept of having a basic machine where you add a set of unique tools depending on your preferred container types.
"This means that you don't need to buy a completely new machine if you get a new packaging material. That's a big advantage."
"However, the machine has been designed specifically to deliver higher levels of speed.
"Speed was quite a big thing for this machine, that was the main goal. With other machines, we are doing about 70 or 80 packs a minute. We can do up to 100 packs a minute with this one.
He added: "Customers will experience a higher speed, they will notice a lot more production than normal."
Eilertsen says the HSCF has already received positive feedback from customers, which is also the most rewarding part of Newtec's endeavours.
"We always develop new machines based on requests and interest from customers. Of course, they have an interest in getting the machines as quickly as possible when they get in touch with us. Often, our customers are taking a big automation step forward and can't wait to start optimising their production," Eilertsen said.
"So there's a bit of pressure when we are in the innovation phase aiming for the best quality on the market and working hard to exceed the expectations of our customers. For me, it is so rewarding to visit the customer after the installation for the final fine-tuning and see how their vision has been realised."